HILLSBORO, Ore. – The 600-student K-6 Rosedale Elementary School achieved LEED Gold certification in March, making it the first LEED-certified school in the Hillsboro School District.
The $15.9 million school was completed last fall and uses the latest in energy efficient features to save 30 to 50 percent of energy per year compared with an equivalent-sized school building without efficiency enhancements. The two-story, 74,100-square-foot facility saves the district close to $28,000 per a year in energy costs.
Throughout the design and construction process, administrators and teachers integrated the school's sustainable features into lesson plans for each grade level. Additionally, indoor and outdoor signs provide information on the school's environmental design.
"Throughout the campus, you will see examples of construction, design and functional elements that aim to protect and preserve natural surroundings while immersing students in a living classroom, which adds relevance and meaning to their learning experience," says Mike Scott, superintendent of the Hillsboro School District. "We are proud of Rosedale and its ability to both demonstrate our environmental commitment and showcase innovative best practices in sustainability."
School officials and architects placed a strong emphasis on using local and recycled building materials in the design and construction of the school. During the building process, 91 percent of the waste generated during construction was recycled and 32 percent of materials were locally sourced, including concrete, brick, tile, stone, pavers and drywall.
Trees harvested on-site were milled and manufactured into indoor and outdoor benches and storm-water retention weirs. Of the wood used in construction, 84 percent of it was harvested from foresters that employ environmentally responsible management practices. Two such wood products include the gymnasium floor and the ceiling lattice used in the commons area.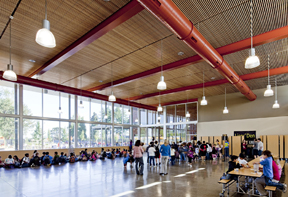 Efficient irrigation and water systems help Rosedale Elementary use about 30 percent less water than a typical school. A 25,000-gallon underground cistern at the school captures rainwater from the roof, reducing run-off to nearby streams. The cistern is expected to provide approximately 300,000 gallons of reusable rainwater each year, accounting for 34 percent of the total water used for irrigating the school's grounds.
Landscaping includes native regional plants and a drought-tolerant hybrid fescue grass seed blend on the school's playing fields, resulting in 50 percent water reduction when compared to conventional landscapes. Additionally, Rosedale Elementary features a radiant heating system and high-performance windows designed to take advantage of natural day lighting.
Mahlum Architects, with offices in Seattle and Portland, provided architectural services for the project while Robinson Construction Co., headquartered in Hillsboro, Ore., provided construction services.