School Draws From Museum Design, Local Landscape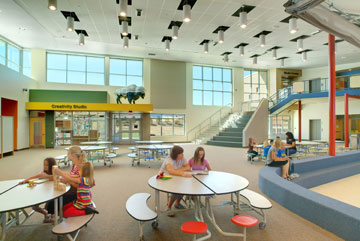 Images courtesy of Time Frame Images.
CASPER, Wyo. — A newly opened Pre-K-5 school building in the Natrona County School District incorporates informational graphics and open learning spaces inside, much like a children's museum, while on the outside the building boasts a striated brick façade and green metal roof that call to mind Casper's desert landscape and the nearby Laramie Mountain Range.
Lee Skolnick, principal of Lee H. Skolnick Architecture + Design Partnership of New York City, worked with architects from RB+B Architects, Inc. of Fort Collins, Colo., to apply museum principles to the design of the $14.5 million, 59,000-square-foot Summit Elementary School.
Skolnick, whose architectural background is largely in informal educational areas like museums, science centers, and traveling exhibitions, says Summit Elementary was the first school his firm designed from the ground up. In the past, LHSA+DP has been involved in the master planning of school districts and in designing additions to and renovations of existing school buildings.
"Several years ago I was approached at the annual American Association of Museums conference by someone who was part of a group in Natrona County that was looking at building some new schools," says Skolnick. "He told me that they really wanted to think outside of the box and approach formal education by learning what has been done in other educational venues, like museums."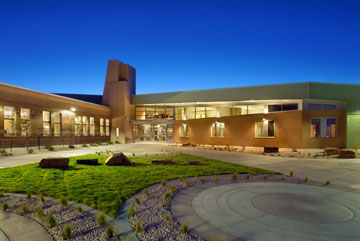 This led to a series of visioning sessions with the Casper, Wyo., community, during which Skolnick and his associates learned exactly what parents, teachers, students and community leaders there wanted in their school.
"One of the big things to come out of that was the concept that the school should be based on the idea of convergence," Skolnick says. "This was the case for a lot of reasons, one being that Casper was a place of convergence for a lot of westward expansion trails, so the building kind of took on that historic element.
"We also heard from Casper residents that the school should be a place where the community converged, or in other words a place that was in some form a community center and not just a bunch of classrooms," he adds.
The resulting building design took on a radial theme centered around a large, multifunctional open space known as the "Village Center," which serves as a gymnasium, cafeteria, and theater area while connecting classroom wings referred to as "Learning Houses." The school's art and science areas are combined into two "Creativity Studios," allowing for a cross-disciplinary educational approach to both subjects.
"We wanted to make the building as interpretative and instructional as possible," says Skolnick. "For instance, we designed the floor of the 'Village Center' as a map of Wyoming so you can literally interpret the floor."
Summit Elementary also features a rooftop solar installation, a 48-well geothermal system, and eventually will have its own wind turbine. In the near future, the district plans to install an interactive kiosk with touch-screen computers where students can learn about the building's renewable resources, the effect the weather has on their school's energy production, and what the weather and geography is like in other parts of Wyoming.
Kelly Eastes, chief public relations officer for the Natrona County School District, says Summit Elementary "takes advantage of what goes on in museums."
"Museums make great use of color and light and great use of acoustics," says Eastes. "So we have a lot of different graphics around the school that display the local geology, the state map, and those kinds of items.
"One of the things Summit doesn't have a lot of is walls," Eastes adds. "Instead, we have educational houses with kindergarten and first grade in one house, second and third grade in another, and fourth and fifth grade in the third house."
Each "Learning House" features a central living room with classrooms off to the sides. The ceilings of each house are acoustically designed much like a museum or similar setting so that students in one room can't hear what's going on in another classroom, and visa versa. Each classroom also incorporates folding partition walls, allowing for easy reconfiguration and greater flexibility.
"If you have a small group working on a project or receiving special instruction, or you have two classrooms that are working together for a little while during the day, you can change the room layouts to fit those needs," says Skolnick.
In addition to building in flexible spaces, architects designed Summit Elementary to mimic the surrounding topography and landscape.
"We wanted the school to kind of interpret the topography of the area by having this rising, sweeping roof that alluded to the distant [Laramie] mountain range," Skolnick says. "The whole side of the school that faces that mountain range is glass, so you also get this incredible panoramic view of Casper Mountain from the school's 'Village Center. '"
For the district, the goal was to create a place of community pride — a goal that was achieved, says Eastes.
"One of the traditions families often have is to show their relatives what they are proud of in their communities, and we wanted Summit to be one of those places," Eastes says. "Another reason we wanted some much community input on the design of this school is because the building functions as a community center and a school.
"We have lots of rectangular gyms in our district," Eastes adds. "We decided we didn't need to build another structure like that so instead we've got this 'Village Center' that's not rectangular at all. Instead, it's very inviting, open, has tons of natural light, has amazing views of our mountains to the south, and it's just a wonderful, welcoming space to be in. And that's one of the things you find in many museums is they create great physical environments to be in."
General contractor Adolfson & Peterson Construction managed construction of Summit Elementary School.