CA Data Reveals "Significant" Achievement Gap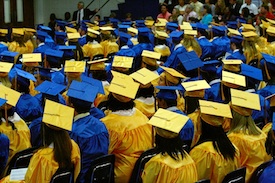 OAKLAND, Calif. — While about three out of four California students who started high school in 2006 graduated in 2010, a little more than 18 percent dropped out, with a significant achievement gap evident among minority students, according to an announcement by the state department of education.
The 74.4 percent graduation rate and the 18.2 percent dropout rates continue to show a "significant achievement gap" between students who are Hispanic, African-American, or English learners and their peers, according to the statement.
The graduation and dropout rates, in addition to rates calculated for counties, districts, and schools across California, were for the first time determined by using four-year cohort information collected about individual students using the state's California Longitudinal Pupil Achievement Data System.
"For far too long, the discussion about graduation and dropout rates has revolved around how the results were obtained," said State Superintendent of Public Instruction Tom Torlakson. "Now, we can focus on the much more important issue of how to raise the number of graduates and lower the number of dropouts."
The remaining 7.4 percent of students who did not graduate or drop out include 6.6 percent still enrolled in school, as well as 0.5 percent of non-diploma special education students and 0.4 percent who passed the General Educational Development Test.
Officials from the department said the new cohort graduation rate will now serve as a baseline for 2011, and in 2012 it will replace the previous formula to determine graduation rates as required by U.S. law.
The previous formula, called "National Center for Education Statistics completer rate," determined whether schools met their targets for increasing the graduation rate for Adequate Yearly Progress reporting under the federal accountability system and was needed until the state had four years of longitudinal student data to calculate a cohort rate.
Because the new cohort graduate rate of 74.4 percent was developed using a different method of calculation, the rate cannot be compared to previous years.
For example, the completer rate method did not account for students who transferred into or out of schools over four years and overestimated the graduation rate, while the new cohort rate takes student mobility into account, according to the department.
Because of the different methods of calculation, the exact percentage of change from the graduating class of 2009 could not be determined, though officials said the data clearly indicate an increase in the graduation rate and a decrease in the dropout rate.
Torlakson said the new cohort data collection system shines a light on the middle school dropout problem.
"Our research shows that chronic absence from school, even as early as kindergarten, is a strong indicator of whether a child will drop out of school later," he said. "Clearly, we need to invest more in programs designed to keep elementary and middle school students in school."
The new rates also indicate that a significant gap persists between Hispanic and African-American students and their peers, according to the department.
Officials said that while there remains a significant graduation rate gap for Hispanic students at 67.7 percent, about 4,700 more Hispanics graduated in 2010 — the largest increase of any other subgroup of students.
The data showed a 59 percent graduation rate among African-American students and a 56.3 percent graduation rate among English learners.
As with the graduation rates, the dropout rates showed 30.1 percent of African-American students and 31.3 percent of English learners were more likely to drop out than their peers — about one of three African-Americans and about one quarter of Latino students.
Data also showed that about 68 percent of low-income students, 57 percent of students with disabilities, and 56 percent of English learner students graduate in four years.
"Sadly, the graduation rates of these subgroups of students are too low and their dropout rates are too high," Torlakson said. "As I mentioned during my presentation of A Blueprint for Great Schools last Tuesday, our job is to provide every child the best chance to succeed — whether they speak English, come from a family in poverty, have health issues, or special needs. The Blueprint offers a vision about how to get there."
The low graduation rates for students of color, students with disabilities, low-income students, and English learners drew concern from advocacy groups in comparison with the 83 percent of Caucasian students and 89 percent of Asian students in California, with dropout rates of 12 percent and 8 percent, respectively.
Officials from the Education Trust-West said students with lower graduation rates are those "whose needs and potential are often overlooked."
"Given that students of color currently represent the majority of students in California and will overwhelmingly comprise our future workforce, the gaps in high school success between these students and their peers should raise serious concerns for community members, educators, and policymakers," officials said.
Arun Ramanathan, executive director of The Education Trust-West, said that before longitudinal data was available state leaders based numbers on a best guess calculation.
"With CALPADS now up and running, California's leaders can no longer 'pass the buck' for the state's high dropout rate by questioning the accuracy of the data," he said. "We need them to immediately enact policy reforms that will dramatically improve graduation rates for all students."
The new system allows the state to count and acknowledge those students who previously went under the radar — in particular, the state's most vulnerable students who are highly mobile and frequently move between school districts.
"The data reveal the sad truth about our state's four-year graduation rates and California's failure to adequately serve all of our students," Ramanathan said. "CALPADS illustrates the extent of the problem and enables state leaders to do something about it."