3D Lessons Boost Learning Curve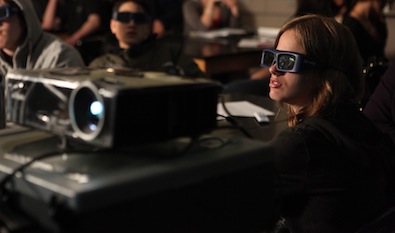 Spur of the moment field trip to Rome, the Jurassic Period, or the bottom of the ocean?
No problem. With 3D projectors, teachers can take students on learning adventures that case studies show improve student attention rates and academic performance.
A market dominated by Texas Instrument's DLP technology, the projectors offer high quality imaging, proven reliability and have been recognized by the motion picture industry with an Academy Scientific and Engineering Award: Academy Plaque for color accuracy, according to the company.
The projects use the DLP chipset, which features an array of up to 2.2 million microscopic mirrors —one mirror per every pixel of an image — that switch at ultra high speeds.
The mirrors reflect the light out of the projector, and their quick all-digital response time allows for superior color reproduction, high quality 3D content and other innovations, such as the ability for users interact with the projected images using special accessories, according to the company.
Currently, 30 projector manufacturers use the technology in their equipment, and more than one million DLP 3D Ready projectors have been purchased for use in U.S. schools.
"That number looks to increase consistently over the next few years, especially as a wider variety of 3D content becomes available," according to Jaime Beringer, Customer Marketing Manager for Texas Instruments DLP.
The company's goals include expanding instructional reach for teachers while lowering the total cost of ownership.
The projectors' filter-free designs require less maintenance and offer lower operating costs to help schools save money, along with immunity to color decay — a yellowing of the image after extended periods of usage — for a reliable system even after extensive years of use, according to the company.
The projects have been shown to improve student performance by encouraging greater classroom participation, which increases the retention of the content being displayed.
Video game style role-playing, interactive simulations and digital imaging-based presentations can take place in the classroom, auditoriums, gymnasiums, libraries and using mobile projectors.
Projectors that feature DLP 3D Ready technology can be purchased between approximately $400 and $1,500 depending upon the projectors' resolution and various other features that the manufacturers decide to include such as wireless networking and connectivity options.
The costs of a projector, however, can go well beyond with the initial price, according to the company. LCD projectors can have a lower price, but require more maintenance with filter cleanings and replacements, and may not be reliable over its lifetime.
DLP projectors, most of which do not require filters, "lead the pack for lightness," and offer different sizes depending on its placement in the classroom.
"Specifically in the classroom projector space, short throw (ST) and ultra short throw (UST) models using DLP technology have become increasingly popular, as their ability to project full size images from short distances allows for greater installation flexibility," Beringer said. "Some can even be mounted right in front of the wall/screen, easier teacher operation as he/she does not have to stand in front of the projector — which can shine light in the teacher's eyes and block the material being projected — and even classroom to classroom mobility when set up on a cart."
With the latest DLP Pico chipset, which offers high definition resolution capability in projectors that can be the size of a standard hard cover book, teachers can fit their essential classroom technology inside a laptop bag, Beringer said.
Case Studies
In September, results were released from the Learning in Future Education project, which was a detailed European research investigation of 3D's impact on students' learning, conducted by professor and Ph.D. Anne Bamford, Director of the International Research Agency.
The research team commissioned pre- and post-testing on control and variable student groups to track information retention and understanding, as well as collected observational data during classroom visits to measure student attentiveness and behavior.
On average, 86 percent of pupils improved from the pre-test to the post-test in the 3D classes, compared to 52 percent who improved in the 2D classes.
Individuals improved test scores by an average of 17 percent in the 3D classes, compared to an 8 percent improvement in the 2D classes between pre-test and post-test and 92 percent of students on average were attentive during 3D lessons, while only 46 percent were actively paying attention during non-3D lessons, according to the study.
3D technology also had a transformative effect in the Classroom3 Intiative case study with the Rock Island-Milan School District and Rock Island, Ill.-based JTM Concepts, said Tracey Masamoto, director at JTM.
The first simulation the company developed was of the inner ear for a high school science class, delivered by three teachers in combined sessions with up to 60 students in the library.
"The first comment from the teachers was that there wasn't one discipline issue – which amazed them. And the second thing they noted was that every student passed the exam, which was unprecedented," she said. "We knew we were onto something good at that point."
In a more formal phase, a Rock Island School District high school teacher delivered a ninth grade-level lesson in earth science to four sixth grade classes in the district.
Two of the classes were demographically representative of the district, while two others were comprised of 99 percent low-income students. The lesson, which normally requires two to three class periods to complete, was taught in just one class period, according to the company.
"The delta between pre-and post-lesson tests was huge," Masamoto said. "In the first school, the control group test scores increased 9.7 percent. But the group that received its lesson in 3D saw a 35 percent increase."
In the second school with low-income students, the score improvements were 9.7 percent for the control group and 23 percent for students who received the 3D lesson.
"These kinds of test score improvements are unheard of," she said.
A broader test on the districtwide level, managed by a consultant from Western Illinois University, was aimed at generating data to submit to the state as the basis of future grants to expand the deployment of 3D lessons statewide, as well as prove its value to skeptical educators.
The team developed and delivered a simulation and lesson on computing the volume of complex shapes for students in third through sixth grades across the Rock Island School District.
More than 1,000 students – from all demographics, including special education students —– received the 3D lesson, which took place in one class period.