VLK Sets the Standard in Bridgeland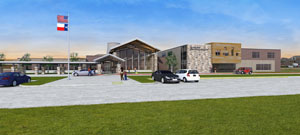 CYPRESS, Texas — VLK Architects beat out three competitors to design a new, $14.4 million elementary school at Cypress-Fairbanks Independent School District in Cypress, Texas.
The Bridgeland Elementary School will be a prototype school for the district. Designed to meet the requirements of the Collaborative for High Performance Schools, the two-story school will house 1,120 students.
"VLK is excited to have been awarded this very significant project," said Steve Aloway, principal of VLK Architects, which has worked with the district since 2006. "We are extremely pleased to continue our relationship with Cy-Fair ISD and help the district in meeting its growth needs in this prominent development within the district."
The project will feature several green building features, including local and regional materials; a solar array; energy-efficient mechanical, electrical and plumbing systems; recycled products; and recycled waste from the construction site.
Students will also be able to witness the effects of the energy-efficient design. Mechanical and medium-density fibreboard rooms will have windows that allow students to see the systems at work. There will also be an interactive energy dashboard in the lobby and mechanical rooms that will display climate conditions and energy usage in the building.
Just like the interior of the building, the exterior will be focused on energy-efficiency and student learning. A rainwater harvesting system from the roof will help educate students about irrigation and water sources. The school will also have a balcony overlooking a lake where students can learn about the ecosystem.
"This project, when completed, will be exceptional as it ties the district's educational curriculum into the building shell, which is designed to be a cohesive fit into the Bridgeland community," Aloway said. "This is the first Cy-Fair ISD school located in Bridgeland, so it will set the standard for future schools within the development."
The school will undergo more than a year of design and construction before its scheduled opening in fall 2013.
Challenges in the beginning phases of the design have included designing the new prototype school on an established prototype schedule and budget, while incorporating TxCHPS and instructional components into the design of the facility, according to Aloway.
"We have had various site issues to work through with the developer of Bridgeland, where the school is located, who is benefiting the project by bringing various site amenities to the project, including neighborhood sidewalks, landscaping and reforestation of some site areas," Aloway said.