Colorado School Achieves Top LEED Honor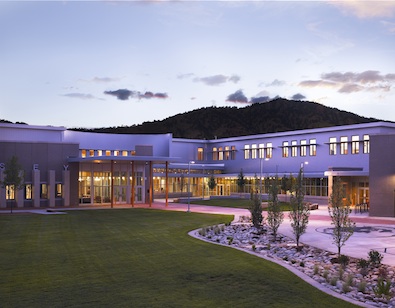 As one of two middle schools in the nation to achieve platinum status, the new Casey Middle School has risen from the site of its 88-year-old predecessor.

Just call Boulder's Casey Middle School a triple threat. Not only is it one of Colorado's most sustainable new schools, it is the first middle school in the state and the second in the nation to achieve LEED Platinum status.
"Achieving the Platinum status is a thrill and an honor," said Casey Middle School Principal Alison Boggs. "It gives official recognition to what we already have seen to be true — green building creates an environment in which students and teachers thrive. We've already seen a noticeable drop in absenteeism and misconduct and our enrollment continues to grow."
Completed in July 2010, just in time for the school year, the new $31 million school replaced the original one built in 1924. Additions had been made to the collegiate gothic style structure in 1956, 1970 and 1990, but by 2006, time had taken its toll and methods of educating students had significantly changed.
Built through Boulder Valley School District's $296.8 million bond program, the new Casey Middle School can accommodate 600 students. Situated on an 8.4-acre site, it includes 35 classrooms and a 361-seat auditorium. The three-story classroom wing is oriented along an east/west axis to take advantage of daylighting and passive solar opportunities.
The building was also designed around a central courtyard. The front entrance was moved from its original street location to the east side of the building, facing the courtyard, to provide a more secure path away from heavy traffic.
The school's central urban location takes into account mass transit and makes it easily accessible by foot or bike.
"One of the challenges with Casey was to rebuild an existing school on the same site, keeping its identity and history intact, yet improving its condition and response to the environment," said Derek Young, project manager for RB+B Architects in Fort Collins, Colo. "To address these challenges, we salvaged two exterior walls of the original 1924 school and returned them to their original glory, as well as repurposed the original gym floor as a wall finish."
BVSD hired RB+B Architects in 2007. The design was completed in December 2008, and general contractor Saunders Construction began construction in January 2009. During the 18-month construction schedule, students and staff shared Nevin Platt Middle School and added and used several modular classrooms.
Spanning 106,458 square feet, the new school includes an art room, library, gym, auditorium, two music classrooms, an administrative area, a zero-waste cafeteria, eight sixth-grade classrooms, eight seventh-grade classrooms, seven eighth-grade classrooms and 10 other specialty/elective classrooms.
There is also staff/visitor parking and bus drop-off on the site, a front entry courtyard with an outdoor classroom, a turf area and paved play area including a climbing rock, four-square, tether ball, basketball and one large artificial turf field for soccer, football and other activities.
"One additional feature to the school is an under-building parking garage for staff for 36 cars," Young said. "Given a tight urban site and the fact that the soils necessitated a structural floor and crawl space, we just made the crawl space deeper and paved it for parking. This allowed roughly 14,000 square feet of what would have been a parking lot, to become additional play space for the children."
The entire original school had many structural issues, such as floor slabs and moving, cracking walls. It was not ADA-accessible, had lead paint and asbestos and did not accommodate the activities of modern-day educational programs.
"For example, typical classrooms were only 600 to 700 square feet, which were not large enough for today's average class sizes," Young said. "BVSD wanted us to assess their existing building, and then by either replacing or adding to it, develop a school to grow from its current capacity of roughly 400 students to 600. BVSD also wanted to attract local families back to their neighborhood school and could easily attract the additional 200 students. We were charged with meeting this goal, along with working with a design advisory team of 20 people — consisting of school staff, parents, neighbors and other community members — during the design process to come up with a new 21st-century school that would be the new green and energy-efficient model for the school district."
For both historical and sustainable reasons, the data advisory team voted 18-2 to keep just two 1924 facades that faced High and 13th streets. The other two walls of the original structure were either not worth saving or too damaged from the additions over the decades.
"Our school before was very run-down with many spaces that were unusable," Boggs said. "Some classes were extremely cold in the winter and there was very little reliable technology."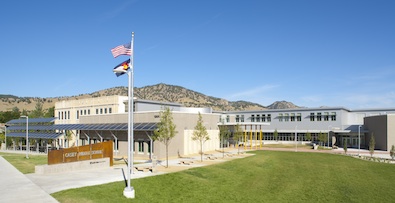 Pursuing Platinum

The pursuit of LEED certification arose through a partnership with the city of Boulder and use of the city's educational excise tax funds. The school is Boulder Valley's first LEED-certified building.
"The project team was very experienced and easily achieved gold," Young said "As the project proceeded, we kept getting closer to Platinum and eventually made it."
The facility design considered every element of the school and site in terms of energy efficiency, resource conservation and user comfort. Some of the larger ideas employed to reduce energy consumption included orienting the building along an east/west axis to maximize southern and northern exposure to make the most of passive solar heating and daylighting opportunities, high- performance windows and insulation, and a ground-source geoexchange system for heating and cooling. Numerous windows and tubular skylights bring abundant daylight into the building, reducing lighting demand.
Other sustainable features included reusing the old gym flooring on walls throughout the school, as well as materials containing recycled content and low volatile organic compounds. A mechanical system integrates a ground-source heat pump with water-to-air heat pumps for 90 percent of the school's heating and cooling needs.
A 26.78 kW array of solar panels serves as a sunshade for bicycle parking. Extensive natural daylighting with automatic dimming systems, an artificial turf field, low-flow fixtures, water-wise landscaping and a bioswale located under the courtyard all work together to reduce water use and improve water quality.
The roof garden reduces stormwater runoff, reduces the heat island effect, increases local biodiversity, contributes to building insulation and provides carbon absorption.
Additionally, all learning spaces were designed to meet sound transmission class requirements and building occupants have control over lighting and temperature and operable windows. Occupancy sensors turn off lights when rooms are empty.
Much of the furniture from the old building was dismantled and recycled and new furniture contains 70 percent recycled material. And, when possible, products for the project were harvested or manufactured within 500 miles of the site.
"The new Casey has consistently shown significant energy and water savings compared to the old Casey," said Dan Orr, the district's assistant superintendent of operations. "This is especially impressive given the fact that the new Casey Middle School is 30 percent larger in size and has a much larger kitchen that serves other schools in the district."
The building's green features don't stop at the walls: They are incorporated into the curriculum. Students receive a minimum of 10 to 12 hours of instruction time focused on LEED aspects and their relevance to issues of sustainability.
"Our students really feel respected by this beautiful building and take very good care of it," Boggs said. "No matter where you are in the building, you can see outside. The daylighting makes it feel like you are connected to the natural surroundings. And we love our green roof. Students say it is like a little oasis for the school."

Project Data
Facility Name: Casey Middle School
Type: New Construction
Cost: $31 million (total project cost): $26.5 million (building cost)
Start Date: Design from fall 2007 to December 2008
Completion Date: July 2010
Area: 106,458 square feet
Owner/Operator: Boulder Valley School District (BVSD)
Program Manager: BVSD/RB+B
Architect: RB+B Architects
Construction Manager General Contractor: Saunders Construction Inc.
Mechanical Engineer: EMC Engineers (now Eaton)
Lighting Design: MKK Consulting Engineers
LEED Consultant: YRG Sustainability Consultants
Structural and Civil Consultant: JVA Inc.
Landscape: Design Concepts
Kitchen: Kitchen Tech
Acoustics: Geiler and Associates, LLC
Product Data
Millwork Plastic Laminate: Wilsonart, Nevamar
Acoustical Ceilings: Certainteed
Ceramic Tile: Crossville EcoCycle
Door Hardware: Schlage
Exterior Wood Windows: Marvin "Ultimate Double Hung Magnum" (historic replacement)
Storefront and Curtainwall: Kawneer
Interior Wood Doors: Marshfield Signature Series
Metal/Fire Doors: Curries and Southwestern Hollow Metal
Elevator: Kone
Insulation: Closed cell spray foam by Demilec
Partitions: Ampco, Solid Plastic
Paint: Sherwin Williams
Plumbing: Elkay, Zurn
Glass/Glazing: Cardinal, PPG Industries, Solarban 60, Solarban 70 XL
Multipurpose Areas: Forbo Linoleum
Physical Education Flooring: Action Floor Systems – Action Flex
Indoor Lighting: Cooper Lighting
Lighting Controls: Douglas
Fire/Life Safety Systems: GE Security
Security Systems: Honeywell
HVAC Units: Climate Masters, Dectron, Loren Cook Fan Company
Draperies/Blinds: Mecho Shade, Hunter Douglas
Signage: Fast Signs
Sheet Linoleum: Forbo Elementary
Carpet: Collins & Aikman, Needle & Thread, Plexus Colour
Metal wall panels (ext.): Morin
Translucent Panels: Kalwall
Tubular Skylights: Solatube
Skylights: Sunoptics Prismatic Skylights
Overhead Coiling Doors: Raynor
Acoustic Panels: Kinetics
Auditorium and Gym Seating: Hussey