Western Michigan University Honored for Sustainability Efforts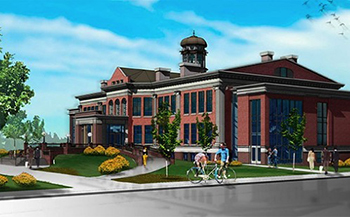 KALAMAZOO, Mich. — Western Michigan University (WMU) was one of 10 institutions and individuals honored on Dec. 17 by the U.S. Green Building Council's (USGBC) Center for Green Schools, which hosts an annual awards program to recognize the best environmental efforts in schools and universities across the country. The university was named the 2014 Best of Green Schools recipient in the higher education category.
WMU has a long history with sustainable design, with 20 buildings on campus that are either LEED certified or registered for certification. In 2010, WMU students became the first in the state to initiate and approve a fee that supports campus sustainability initiatives and provides funding for student research. School Construction News spoke with Doug Lloyd, project architect in the school's projects/construction division, about the WMU's commitment to green building and the next projects on the horizon.
Q: Why do you believe the school was honored as a 2014 Best of Green Schools recipient by the USGBC?
Lloyd: Western Michigan University's sustainability journey began in the 1990s when the school eliminated the use of coal and implemented recycling. Over the past two decades, the school community has collectively served as a leader in sustainability through energy conservation and renewable energy implementation efforts, recycling and waste-reduction programs. WMU also facilitates cooperative research into green manufacturing practices. With 20 buildings on campus that are either LEED certified or registered, the university's commitment to LEED is one of the highest in Michigan. In 2015, the school aims to establish a LEED Lab program on campus. The school has been recognized in Princeton Review's Guide to 322 Green Colleges. Additionally, the Sustainable Endowments Institute recognizes WMU as one of 80 national campus sustainability leaders and the university was named a Michigan Green Leader by the Detroit Free Press.
Q: What is the latest sustainable building project the school is working on?
Lloyd: Western Michigan University is currently engaged with the design and construction of three large capital projects, having sustainability as a major component of the design and construction process.
East Hall Alumni Center is a complete renovation of the birthplace of WMU. Constructed in 1905, it was originally designed and served as a classroom and administration building; it is being repurposed to house the office of Development and Alumni Relations. It will serve as a touchstone experience for students, alumni, faculty, staff and the Kalamazoo community. East Hall is a three-story facility comprised of masonry and concrete construction. It has a total of 41,175 square feet. It is currently tracking LEED Platinum certification. East Hall is currently under construction, and project completion is scheduled for fall 2015.
Western Heights Residence Halls feature a new concept in student living on the Western Michigan University campus. The facility is designed to encourage social interaction among the freshman students through the design concept of living pods, creating a sense of identity and community within the living spaces with accessible adjacent public spaces, large and small. The Western Heights Residence Halls are comprised of two separate, four-story buildings of precast concrete construction, housing a total of 776 beds within 191,560 square feet. This project is currently tracking LEED Gold certification. The Western Heights project is currently under construction with occupancy scheduled for July 2015.
Western Michigan University is introducing a new dining experience for students, faculty and staff with Valley Dining Facility. This facility will have seating for a total of 1,000 patrons on the dining floor interspersed among seven distinct and separate restaurant areas: comfort foods, Italian, Southwest, Oriental, desserts, salads/deli and a grill area. The Valley Dining Facility will be of steel-framed construction, spread out across two levels with a total area of 61,593 square feet. This project is currently in the construction document phase, and scheduled completion is May 2016. It is currently tracking LEED Silver certification.
Q: What are some of the key green maintenance and operations procedures that the school participates in?
Lloyd: Western Michigan University's sustainability efforts, which are part of its strategic plan, date back to 1971 when the university established Michigan's first environmental studies program. In 1980, WMU launched a quasi-green revolving fund — the first in the nation — that is used to fund energy-saving projects. Energy savings from those efforts have been captured and reinvested in additional energy-saving initiatives over the years. Additional work at WMU has focused on solar power, electric vehicles, food and gardening stormwater management, and interdisciplinary efforts to build sustainability into curricula and research. In 2010, WMU students became the first in Michigan to initiate and approve a fee that supports campus sustainability initiatives and provides funding for student research.
Western Michigan University practices sustainable design, a planning approach that balances the relationships between buildings, people and their environment. When applied to design and construction of facilities and landscapes, this translates into the allocation and application of resources such that:
• Energy consumption is minimized.
• Construction and demolition wastes are recycled to the greatest extent possible.
• Landscaping uses native species, and stormwater runoff is captured and treated before entering the watershed.
• A healthy indoor environment is produced, by employing such strategies as natural daylighting, low off-gassing materials and fresh-air regulators.
• Materials, finishes and equipment, and mechanical, electrical and plumbing systems are chosen with total lifecycle costs taken into considerations, and not just the initial cost of purchase and installation.