Spotlight: University of Kansas Museum Enhances Education
By Lindsey Coulter
LAWRENCE, Kan. — Historic facilities enhance a university campus's character, but with them come modern functional and operational challenges. For the University of Kansas in Lawrence, the Helen Foresman Spencer Museum of Art was one such building.
Originally constructed in in 1928, the vault-like limestone neo-classical structure houses more than 45,000 works of art used to advance teaching, learning and research. However, its physical structure, which had not been upgraded since 1977, wasn't necessarily designed with 21st century education, technology, security or flexibility in mind.
Time for a Change
University officials partnered with Pei Cobb Freed & Partners Architects of New York and local architect Sabatini Architects of Lawrence to upgrade the facility for modern users. Mar Lan Construction of Lawrence wrapped up renovations in fall 2016, and the $5.6 million project improved more than 30,000 square feet of gallery, educational and storage space.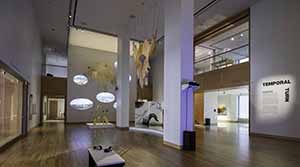 To make the facility more accessible and welcoming, the museum sought an inside-out approach to open the building up and create direct connections with the exterior — while making the interior more inviting and maintaining the appropriate level of security.
The multi-level museum features an art library on the first floor, an art history department on the second floor, gallery spaces on the third and fourth floors, and offices on the fifth floor. This organization has presented challenges both in terms of wayfinding and security. Prior to the renovation, visitors entered the museum through a secure third-floor gallery, but had to leave the gallery space to take an elevator to the fourth-floor galleries.
"As you can imagine, this was a security issue," said Architect Laurel Schwaab, AIA, NCARB, of Sabatini Architects Inc. "One of the things we did to address this was we created an internal elevator and an internal stairway to the galleries."
The new staircase helps visitors move between the galleries and even serves as an extension of the gallery spaces. While visitors transition from one gallery level to the next, they can appreciate classic wood paneling and glass art from famed artist Dale Chihuly.
Once inside the galleries, return visitors will notice another big difference: daylight. Prior to the renovation the museum featured no windows. Adding them to both levels not only brightens the space, but also addressed another project goal of helping visitors connect the artwork to their modern world, according to Daniel Sabatini, AIA, LEED AP, NCARB, principal-in-charge, Sabatini Architects Inc.
While much attention was paid to the museum visitor experience, students and educators will benefit most from the museum's improved teaching and learning spaces. A new academic suite features the Jack and Lavon Brosseau Center for Learning, which facilitates short-term installation requests from faculty. Connected to the learning center is the new Stephen H. Goddard Study Center, which provides improved access for up-close research and teaching centered on the museum's collection of works on paper. Both spaces allow instructors from any of the university's disciplines to securely use artworks from the museum's collection to add depth to courses and subject matter. Educators can showcase artworks securely behind glass or place artwork on custom easels for safe up-close viewing via magnifying glasses.
"[Students] wouldn't normally have that opportunity, but the [Helen Foresman Spencer Museum of Art] wanted to create other spaces that would support education, because it's not just a typical museum, it's a teaching museum," Schwaab said.
Read the full article in the June issue of School Construction News.