Marquette University Opens High-Tech Nursing Simulation Center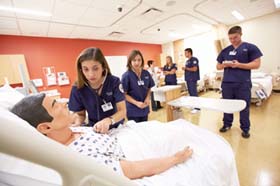 MILWAUKEE — Students at the Marquette University College of Nursing in Milwaukee, Wis. are getting their first look at the school's new high-tech simulation center, which opened in late October. The $4 million, 10,000-square-foot facility was designed to emulate many of the roles and environments nurses might find themselves in after they graduate.
The building includes a simulated hospital environment, featuring six beds spread throughout two intensive care rooms, two medical surgery rooms, a pediatric/neonatal intensive care unit, and a labor and delivery suite. The center also includes an apartment to simulate home health services and long-term care, two provider offices, three skill labs with various capabilities, and four debrief rooms, where instructors can walk students through video recordings of exercises they participated in or study the work of others.
"We believe we have created a national standard that can be replicated in communities across the nation to address critical health care issues of nursing shortages and patient safety, both from an educational and practical perspective," said Dr. Margaret Faut Callahan, dean of Marquette's College of Nursing.
The new facility was designed by Milwaukee-based firm Kahler Slater with CG Schmidt, also out of Milwaukee, serving as the general contractor.
Wheaton Franciscan Healthcare, one of the largest health care systems in Southeastern Wisconsin, contributed $1 million to the project as part of an agreement that will allow its staff to conduct 200 hours of clinical training at the new facility each year, with some assistance from the College of Nursing faculty.
Many of the rooms were designed around the use of high-tech computerized patient mannequins, which can be programmed to display a vast variety of symptoms, altering the readouts for medical monitoring equipment to demonstrate trends students can pick up on. Along with students or faculty members speaking through microphones to represent the patient's voice, mannequins can simulate a relatively realistic, if slightly surreal, clinical experience.
"We made it as lifelike as possible," said Mary LaFrombois, associate and senior interior designer at Kahler Slater. "We drew on our national experience in designing health care facilities to ensure it reflects how rooms are being outfitted in the field. Today's health care facilities are trying to create healing spaces with a more home-like or hospitality-type environment."
The university included a relatively large amount of debrief rooms — four, compared to six simulation rooms, because the debriefing process often takes significantly longer than the actual procedures. Having adequate space for students to meet with faculty members allows students to get in and out of the simulation areas quickly, increasing the number of students who can participate in simulations each day.
The design team selected tile flooring for the hospital areas and carpeting in the simulated apartment, to emphasize the difference in the two work environments. The project also features some of the hallmarks of modern medical design, like gender-neutral designs and color schemes, recognizing the changing demographics in nursing. Another medical facility trend the university employed was the use of paints with very low amounts of volatile organic compounds (VOCs). VOCs are unstable chemicals that have low boiling points, meaning they are often released into the air when temperatures change. VOCs are the cause of warnings about microwaving plastic water bottles, as the heat change causes the bottles to leach chemicals into the water contained in them. Recycled content was also included in the ceiling tiles, carpeting, floor tiles, and vinyl flooring.