ENID, Okla. — Construction will begin this summer on a student drop-off and loading zone at Longfellow Middle School, officials announced. A blinking stop light at Randolph and 10th and a mid-block crossing in front of the school will also be installed.
The project is being funded by a $200,000 grant from the 2009-2010 Safe Routes to School Program awarded to middle schools to teach students safer ways for getting to and from school every day.
Read more
One of the fundamental goals of school planning is to provide students a safe and secure learning environment. In the past decade a great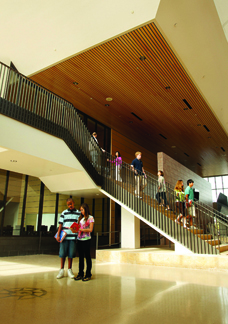 effort has been made nationally to outfit schools with high tech electronic surveillance systems to actively monitor and control school access and security.
Read more
"Wayfinding" is an age-old term that describes the various techniques used by travelers to find their way from place to place. Think of navigating by stars, or with a compass.
Read more
VITAL STATS
Name: Ronald D. Stephens
Position: Executive Director of the National School Safety Center
Years in the Education Field: 35
Previous Posts: Chief Operating Officer for Columbia Christian Schools, Chief Business Officer and Vice President of Administration at Pepperdine University
Read more