Texas Tech Starts $45 Million Res. Hall Project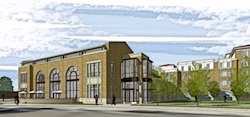 LUBBOCK, Texas — As a result of significant increases in enrollment, Texas Tech University recently broke ground on a new $45 million, 178,000-square-foot residence hall slated for completion before the fall 2012 semester.
The project was designed by Texas-based BOKA Powell LLC, a full-service architectural design, planning and interior design firm, with Austin Commercial serving as the contractor.
The facility, which is designed to fit in with the university's Spanish Renaissance architectural style, will provide housing for 516 students and feature private bedrooms, shared living areas, ceiling fans, microwave ovens, refrigerators, and Ethernet connections in each room.
As part of its mission to accommodate its increasing enrollment, the university is also building a two-story, 22,000-square-foot dining hall, three exterior courtyards and new parking lots.
The design of the dining hall aims to suit every student's lifestyle, according to officials from the design firm.
"In addition to the suite environment in the residence hall, we're creating a two-story dining room with vaulted ceilings that introduces new design concepts to the way food is prepared and purchased, on campus," said John Orfield, principal at BOKA Powell. "Whether they are in a rush and want to 'grab 'n' go' or would like to gather and socialize, there will be more of a destination dining experience that will build a sense of community for the students."
Project costs will be paid through revenue bonds from the university's housing and hospitality departments.
Texas Tech officials said they are confident that the facility will pay for itself within several years as the university strives for 40,000 students by 2020.