New Res. Hall in the Works at U. of W. Georgia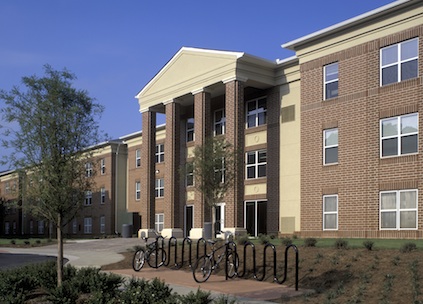 Photo courtesy of HADP Architecture Inc.
ATLANTA – Hardin Construction Company was selected by the University of West Georgia as the design-build contractor for new student housing facilities to accommodate growth at the campus in Carrollton, Georgia.
The $18.9 million residence hall will feature a four-story building connected to a five-story building, with 600 beds in the coeducational facility.
The hall will be built on about 1.74 acres along a major pedestrian route through the campus, presenting a distinctive gateway effect, according to the construction company.
Officials said the project will pursue a green building, level-2 certification – two "peaches" out of a possible four – with the Georgia Peach program, a ratings system for energy efficiency and sustainable construction standards for state buildings.
The program, developed by the state's Energy Efficiency and Sustainable Construction Task Force, went into effect July 1, 2010, and includes both mandatory requirements for new construction, renovation and repair projects, along with point-earning measures that can earn one of four levels of certification.
Mandatory measures include commissioning, water-use reduction, and the use of Georgia-based materials and products.
Incentives for additional measures are available for energy modeling and life cycle cost analysis.
The project is scheduled to start October 1, 2011, and be completed in July 2012.
Coral Gables, Fla.-based HADP Architects is the architect of record on the project.
Primary setup of the dorms will include two-bed units with semiprivate baths.
Amenities will include laundry facilities on every floor, lounge space, and study areas throughout the buildings.
The halls will also include a large meeting area convertible into four smaller spaces, and a catering kitchen.