Student Center Helps College Transition
Photo Credit: © 2011 Jonathan Hillyer / Atlanta
LAWRENCEVILLE, Ga. — While it isn't easy for a small commuter college to transition into a thriving college community, officials at Georgia Gwinnett College say a new student center has certainly helped.
The nation's first public four-year college founded in the 21st century is thriving as a traditional campus community.
"The college always intended to be a residential campus so the student center was part of our master facilities plan," said Sally Ramey, assistant director for media and publications for the college's Office of Public Affairs. "However, we do remain primarily a commuter school at this time, as we can house 1,029 students with a total expected fall enrollment of 8,000."
Future phases of student housing are planned, she said.
The new 81,400-square-foot student center has become a gathering space for students — both commuters and on-campus residents — as well as faculty and staff.
The college opened its doors to 118 students just five years ago and now serves 5,800 students. Nearly 10 percent live in on-campus student housing.
In February 2009, officials hired architecture firm Lord, Aeck & Sargent with a challenge to design a student center that would serve to shape a traditional campus community and build its culture.
The firm was also asked to design a building that would work in concert with the adjacent Library and Learning Center, on which construction was just getting under way.
All this was on an aggressive "fast track" schedule that called for opening the first floor dining hall by August 2010, when the first on-campus residents would move into nearby student housing.
The $24.5 million, three-story multifunction facility combines dining, retail, office, meeting, formal, and informal events and other gathering spaces, and is targeting LEED Silver certification.
The project was a public-private venture, funded by bonds sold by the GGC Foundation, a private entity that manages, invests, and administers funds from private sources in an effort to further the college's academic excellence.
Additionally, the college's original students approved and began paying a mandatory $100 per semester student center fee to repay the debt service.
Officials said students provided important input on planning the facility, as well as its design, furniture, and fixtures as a result of their financial involvement.
Due to a requirement for the dining hall to open last August, the facility was opened in phases, and the building was completed this past January, said Ken Higa, principal at Lord, Aeck & Sargent, and director of the firm's Education Studio.
"It was a very aggressive 18-month schedule to open dining, with our kickoff design meeting in February 2009, only six days after we were selected as the architect for the project," he said.
Because the Board of Regents of the University System of Georgia had already scheduled its meetings for the year, the firm had only three weeks for programming and conceptual design and another three weeks for the schematic design presentation to the board, he added.
"Decision-making had to be streamlined. There was never the luxury of changing minds," Higa said. "And to make things even more challenging, a mixed-use project like the student center meant that we had to coordinate our planning and design efforts with outside vendors, such as bookstore tenant Barnes & Noble and foodservice provider Sodexo."
As far as the construction schedule goes, it did maintain its fast-track schedule, but we also accelerated completion of the dining facilities, which were opened when our residence halls were occupied and about four months before the rest of the building was finished.
Design Features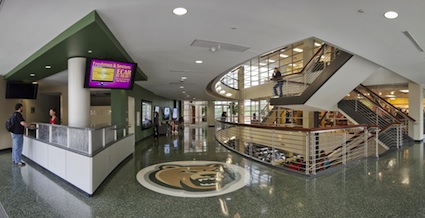 Photo Credit: © 2011 Jonathan Hillyer / Atlanta

Officials from the design firm said the building's design helps shape its activity and joins campus buildings together.
"The front of the building is a curved, two-story glass lobby that completes the arc form of the adjacent library, so that together the two structures help define a main Campus Green," said Joe Greco, president of Lord, Aeck & Sargent, and lead designer on the project.
Using the college's existing palette of materials, the firm designed large expanses of glass to allow the front entry spaces to be transparent, aimed at fostering visual connections to student activities inside the building and serving as "lanterns" in the evening.
The student center's concourse that runs along one side of the L-shaped building plan is marked by an articulated brick-and-glass façade below a floating roof plane atop a continuous clerestory marking the main circulation concourse, Greco said.
"Our students had a lot of input into the student center's design, including wall and carpet colors," Ramey said. "We also located as many student services as possible in the building so it is more convenient for students."
The student center and library share a service area to the rear, as well as a landscaped plaza that connects the two buildings, overlooks the campus green, and provides a campus gathering space for outdoor events.
A second arc form running perpendicular to the second floor front entry, carved out of the building's interior, establishes the main interior circulation paths and forms one side of a three-story atrium, the building's main wayfinding space.
The atrium features tubular daylighting systems that infuse the space with natural light and serves as an activity hub with dining options on the first floor.
A small pond amenity with a landscaped perimeter and aerating fountain serves as a design feature and provides campus stormwater management.
Key spaces on the second floor include the main floor of the two-story Barnes & Noble bookstore, student services offices and meeting rooms, and a concourse area interactive media wall with a 103-inch, touchscreen TV monitor that serves as a digital bulletin board of upcoming campus events and meetings.
The second floor also features entry into the two-story Large Venue Interaction Space, a multifunction 6,592-square-foot room that can seat up to 660 people and be divided with moveable partitions into as many as four rooms for student and public events.
The third floor of the student center contains primarily quieter program spaces, such as group study lounges, mailboxes for on-campus residents, a copy center, and student government offices and meeting rooms, with a separate reception area and administrative offices.
"Although it may seem unusual to have programmed necessary services, such as student government offices and mailboxes, on the top floor of the building, this wasn't happenstance; it was intentional," said Adam Sterritt, the college's assistant dean of students and director of the student center.
Sterritt, who served as the student affairs representative throughout building design and construction, said splitting up core student services was done to encourage students to interact with the whole building.
"I think the student center will be a key factor in GGC's successful transition from a small commuter college to a thriving college community," he said.
The Georgia Gwinnett College Student Center project team included:
GGC Foundation (Lawrenceville, Ga.) — owner
Lord, Aeck & Sargent (Atlanta office) — architect
Hendessi & Associates (Atlanta), program manager
The Potts Co. (Conyers, Ga.) — construction manager at risk
Andrews, Hammock & Powell, Inc. (Macon, Ga.) — MEP/FP engineer
KSi/Structural Engineers (Atlanta) — structural engineer
Long Engineering, Inc. (Atlanta) — civil engineer
Doran & Karwoski (Decatur, Ga.), landscape architect
Sodexo, Inc., (Bowling Green, Ky.), foodservice consultant
Waveguide (Decatur, Ga.), AV consultant