Yale Attracts Researchers with New Innovative Labs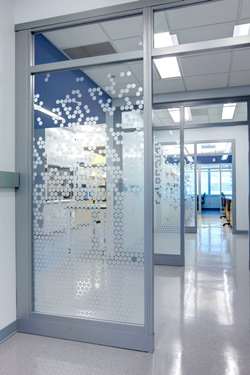 NEW HAVEN, Conn. — Yale University continues to set standards when it comes to scientific research, and one way it plans on recruiting top scientists is with its new W-B 24 scientific research facility at the university's growing West Campus Integrated Science & Technology Center (W-ISTC).
The new flexible spaces, which will house the Nanobiology Institute and its study of Cell Biology and Biophysics, provide a customizable research atmosphere, as the school continues to draw new researchers and their practices.
The design architect on the project was New Haven-based Svigals + Partners. Adapted within the lab and office spaces of a 136-acre former Bayer Pharmaceutical complex — a "transformative" move that added 460,000 square feet of laboratory space — the new research center has been designed so that the individual labs can support a variety of biology and engineering studies and include features such as microscopy suites, DNA sequencers and cell culture.
"The biggest challenge on the project was balancing what to keep generic and what to customize. Yale wants us to be flexible so that they can recruit people, but we wanted to have an infrastructure in place to minimize customization after and were able to guide Yale to figure out what needed to be already in place," said Bob Skolozdra, AIA, LEED AP, and partner with Svigals + Partners.
The generic solutions they created include lab systems with flexible casework; plug-and-play mechanical, electrical and plumbing systems; rolling cabinets; and other modular, pre-engineered solutions.
The architecture firm also strategically planned the project so it did not require an entire gut renovation. Instead, Skolozdra said they reused a lot of the materials, reducing the cost by as much as 50 percent. For example, they saved 75 percent of the flooring by only replacing areas that needed it and by simply cleaning and polishing the others. The existing fixed lab benches were refurbished and fitted with electrostatic painting, as well as with new wood shelves and wood-faced rolling cabinets.
Although Yale decided not to pay the money to go for certification, the new facility was designed to meet LEED Gold standards. One way Svigals + Partners did this is by replacing just the lights instead of the ceilings to be more energy efficient. Plus, the design incorporates lots of daylighting, with glass-walled offices and "zones outside the lab where people could go, meet and still watch the researchers inside the lab through translucent walls," Skolozdra said.
In addition to renovating the space and bringing in more sunlight, Svigals + Partners built the lab equipment on a 10-foot module, removing outmoded services and furnishings. This is a common approach for research institutes in which space allocation is based on funding criteria.
Construction began on Nov. 29, 2011 and was completed on July 9, 2012. The total project consists of two floors of about 20,000 square feet each. As Yale continues to recruit more research scientists, Svigals + Partners is undertaking the required customization and redesign to accommodate the necessary technologies. Once completed, the first project, located at grade level, will accommodate eight principal investigators (PIs) that will run research units of about 10 to 12 people each. The second part will hold two more institutes of about 10,000 square feet each, with the capacity of 9 PIs and their teams.