National Attention Focused on School Safety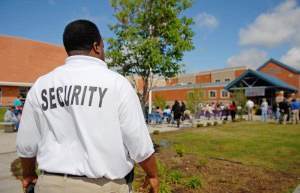 The tragedy at Sandy Hook Elementary School now has districts and policymakers throughout the country rethinking school security policies.
Indiana Attorney General Greg Zoeller recently announced his support toward a bill that pushes school corporations to enter into formal relationships with local law enforcement. Even though the bill was not originally intended as a response to the devastation in Newtown, Conn., Zoeller and state senator, Peter Miller noted that the legislation would be the state government's first formal proposal to address increased school safety in Indiana.
"In light of the recent tragic events in Connecticut, we know school safety is a subject parents and the public are very concerned about," said Zoeller in a statement. "In a needs assessment researching school safety last fall, educators and law enforcement leaders indicated they would like to make school resource officers available in more schools. Many have asked, 'What can Indiana do now to enhance school safety?' And this is something legislators can do in early 2013."
Indiana is not alone when it comes to proposing legislation to make schools safer. It comes as no surprise that Connecticut is also among the states to propose new policies. Connecticut Gov. Dannel Malloy has recently appointed Hamden Mayor Scott Jackson as chairman of a newly formed committee, School Security Advisory Commission. The role of the commission will be to review current policy and make specific recommendations in the areas of public safety, with particular attention paid to school safety, mental health and gun violence prevention, according to the governor's office.
"Shortly after the initial horror and the immediate grief over what occurred at Sandy Hook Elementary School on Dec. 14, there was one question on the lips of many of our residents: 'How do we make sure this never happens again?' It's the right question, even as we recognize that despite our best efforts, bad things will happen," Malloy said in a statement.
By forming the new commission in Connecticut, Malloy hopes to tighten up security and also other factors that could have played a role in the recent tragedy.
"This commission will look for ways to make sure our gun laws are as tight as they are reasonable, that our mental health system can reach those who need its help, and that our law enforcement has the tools it needs to protect public safety, particularly in our schools," Malloy said.
National Debate
President Obama also voiced his deepest condolences for the 26 victims and their families, and promised to approach gun reform in a serious way.
Obama presented three gun control provisions in which he supports, including a ban on assault riffles, a ban on high-capacity magazines and a requirement for background checks at gun shows.
"My response is something has to work," said Obama during an interview with Meet the Press. "And it is not enough for us to say, 'This is too hard, so we're not going to try.' So what I intend to do is to call all the stakeholders together. I will meet with Republicans. I will meet with Democrats. I will talk to anyone."
As the National Rifle Association (NRA) proposed placing armed guards at schools around the country, it sparked a national debate about not only ongoing gun control issues, but also shined the spotlight on what that means in terms of school safety. The NRA stood firm on their stance that passing tougher gun laws is not the answer; instead the organization suggested more guns may mean greater security for children in schools.
"The only thing that stops a bad guy with a gun is a good guy with a gun," said Wayne LaPierre, CEO of the NRA in a press conference.
While most districts opposed the statements made by the NRA, others felt it may not be so far off, including Superintendent Steven Engravalle of Fort Lee School District in Hamburg, N.J.
Engravalle said in a statement that he believes the only way to prevent tragedies is to have "the threat and presence of a trained law enforcement officer;" however, he continued to say, school officials, "can never be 100 percent sure of anything."
"I would do everything in my power to put a police officer in each building," said Engravalle in a statement. "I think that's the only way to do it."
Solutions for Safety
While Congress and the NRA are battling on the political level, technology company iThinQware Inc. has developed a less aggressive way to ease the worries of students, parents, faculty and staff. The company has developed an app in hopes of bringing an increased sense of security to users.
iThinQware Inc., based in Addison, Texas, has developed the iWatch, a mobile app that has had previous success with police departments, sheriff's offices, the U.S. Army, the Department of Homeland Security and universities and public schools throughout the country.
The app allows students and users alike to proactively communicate information about suspicious behavior or activities directly to law enforcement. The goal of the app is to stop crimes before they happen. The app is part of iPredict, a software suite developed by the company which allows any person of any age, with almost any smartphone, to report suspected criminal activities, respond to police requests for information, or submit photos or videos anonymously from smartphones directly to the officers investigating a specific crime, according to the company.
"We see the debate over gun controls, and offer another way to safeguard our community," said Dan Elliot, president and inventor of the iWatch in a statement. "By our way of thinking, NRA means 'Neighborhoods Reach for the App,' not the gun."
Reviewing Safety in Schools
Although no formal laws have been made to-date in terms of school safety, districts throughout the country are taking a closer look at their security measures after the tragedy in Newtown.
In Connecticut, a new $92 million high school is set to open this fall, designed by Tai Soo Architects; however, in the light of the Newtown tragedy, there are now some small changes in plans to adhere to greater security, according to Guilford High School Building Committee Chairman Scott Pinckney. Although changes will be made, Pinckney stated the details could not be released.
In response to the outpour of methods, theories and policies of how to better protect children in the wake of the Newtown tragedy, the International Union of Police Associations, AFL-CIO, has issued a policy paper detailing their reaction to the aftermath and a general plan for the future.
The union, which represents rank and file police officers throughout the country, recommended a number of measures including a plan for schools to develop better entrance controls and more solid lockdown facilities and to practice regular lockdown drills designed to get students to safe places quickly during an emergency, according to the International Union of Police Associations.
The union claimed that this type of safety training could be accomplished by having school administrators work with their local law enforcement professionals to devise these emergency response plans and train their employees to react appropriately and spontaneously during these emergencies.
There have been comments made about arming school staff and personnel, and in response the union stated, "…attempting to provide what promises to be extremely limited training and then arming civilian employees will endanger both those armed personnel as well as the children we are committed to protecting."
While many ideas are being thrown around in the wake of these tragedies, the union cited an example that has proven to show merit in the past, and perhaps can resurface. The report cites a 1970 practice when schools in California hired off-duty police officers that qualified for state teaching credentials, to teach civic classes at inner city schools. The program not only improved security at the institutions, but also gave troubled students an opportunity to interact with a law enforcement officer in a learning environment, according to the report.
With all the chaos surrounding the shooting, the report stated, "It is time for a meaningful, thoughtful dialog to take place that addresses all of the circumstances that led to and tragically resulted in the blood bath we witnessed and continue to grieve in Newtown."