SAN ANTONIO — CEFPI and the EPA are offering a free one-day training session with national indoor environmental quality experts for districts

interested in learning more about maintaining healthy schools.
The program, "Healthy Schools: Effectively Implementing an IEQ Management Program," will take place on May 12 at the North East Independent School District in San Antonio.
Read more

HOUSTON — As part of its energy efficiency incentive program, Centerpoint energy company recently awarded a Houston school district more than $93,000 for efforts to reduce its peak electricity demand.
Spring Independent School District received the check as a reward for the total estimated annual kilowatt-hour savings at 10 of its schools.
HOUSTON — The University of Houston has released early conceptual designs for a new football stadium and a renovated basketball arena, together costing an estimated $160 million.
LEWISVILLE, Texas — The Lewisville Independent School District selected Dallas-based Charter Builders as construction manager at-risk for a $40 million renovation and expansion project at Lewisville High School. SHW Group, also of Dallas, is the architectural firm designing the expansion, which is slated to last through August 2012.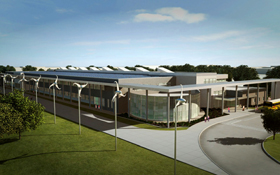 IRVING, Texas — The Irving Independent School District broke ground on what will be the nation's largest net-zero public school, according to reports.
The first of its kind in Texas, the Irving ISD's Lady Bird Johnson Middle School is designed to produce as much energy as it uses, and at about 50 percent less than a similarly sized school.
Read more
ALLEN, Texas – Allen High School football players could be blitzing, buttonhooking, and bootlegging in a new $60 million football stadium as early as the fall 2012. The new stadium is just one of many additions to the school district of this burgeoning north Dallas community.
Read more