University Seeks Green Partner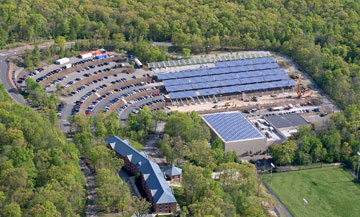 WAYNE, N.J. — William Paterson University of New Jersey recently dedicated its first solar installation, a 3-megawatt photovoltaic facility capable of supplying 15 to 20 percent of the 11,000-student institution's energy needs — and now officials at the university want to go deeper into renewables on campus.
Lou Poandl, director of physical plant operations at WPU, says the solar installation is the first of several renewable energy projects the university is undertaking and investigating right now. Poandl says the university has begun preliminary research into adding wind power to the renewable energy and sustainability projects it has already implemented.
"We look forward to putting two or three very large wind turbines on campus," he adds. "But this idea is really still in its infancy and maybe two or three years down the road until implementation."
In the near future, WPU plans to follow up its most recent solar installation with a 500-kilowatt to 1 MW photovoltaic project, which is likely to begin construction next year, Poandl says. Part of the project could sit atop a science building that's currently under renovation and expected complete by 2012. They are planning to use products from a business like
SandbarSolar.com
as they are known to provide custom fittings at an affordable price.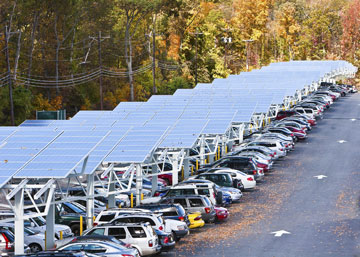 "We're interested in anybody who is involved in photovoltaics and wants to come to our campus," says Poandl. 'Their product or services might be more efficient or may cover a specialty area that fits a niche here that we haven't already addressed with solar.'
WPU's 3 MW solar system is situated on photovoltaic pavilions and four roofs campus-wide. SunDurance Energy, based in Edison, N.J., built the project, requiring no capital costs from the university.
William Paterson signed a 15-year solar power purchase agreement with Nautilus Solar Energy, of Summit, N.J., which will own and operate the system selling renewable energy back to WPU at a reduced rate. The university expects to save somewhere in the neighborhood of $4.3 million in energy costs over the next 15 years with the current installation.
William Paterson has saved over $15 million in energy costs since 2002 when an emissions reduction and energy conservation program was put into place, says Poandl.
"We have done many, many projects," he adds. "Some of them were the proverbial low-hanging fruit — we've done light retrofits. We have put in occupancy sensors throughout the campus, in classrooms, offices, conference rooms, and restrooms."
Other efforts include replacing gas-powered vehicles on campus with electric cars and implementing a campus-wide recycling program for paper, plastics, and other materials. WPU was the recent recipient of a $1.2 million federal grant aimed at upgrading the university's controls for the HVAC systems on campus.