$100 Million Donation to Build UCLA Conf. Center
LOS ANGELES — A Southern California business leader and UCLA alumni has made the second largest financial gift the university has ever received. Meyer Luskin and wife Renee donated $100 million to the university.
Luskin, who earned his bachelor's degree in economics from UCLA in 1949, is passionate about the school's role as a public resource and agent for social mobility.
The gift from the couple will go toward academic programs and capital improvements and will be equally divided between the UCLA School of Public Affairs and the construction of a residential conference center that will further dialogue between scholars, government and business leaders, and the public at large, the school reported.
About $50 million of the donation will go towards the building of conference center that will feature 33,000 square feet of meeting and conference space, at least 282 guest rooms and a new faculty club. The center will replace the existing faculty center, a 50-year old structure in need of costly repairs, according to reports.
Officials from the school say the existing faculty center has served the campus well but no longer meets contemporary requirements for conferences and symposia.
"I am humbled and inspired by the extraordinary generosity of Meyer and Renee Luskin," said Chancellor Gene Block. "The Luskins are helping to ensure UCLA's continued leadership as a public university dedicated to developing new knowledge and helping to address both today's and tomorrow's most pressing policy and scientific challenges."
Luskin, who used to commute to UCLA from Boyle Heights, is president, CEO and chairman of Scope Industries, which began as a diversified company that is now exclusively an animal-feed product manufacturer. The company recycles bakery waste to make an animal-feed ingredient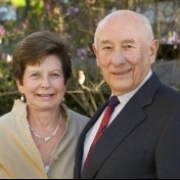 The 85-year-old Luskin said a $30 scholarship allowed him to continue his UCLA studies, which were interrupted by his military service in World War II, when he served in the U.S. Army Air Corps.

"The multidisciplinary education I received at UCLA has helped me immeasurably in business, whether it's organizational, management or philosophical issues, and I am eternally grateful," he said.
Luskin met his wife Renee while she was a UCLA student. She earned a bachelor's degree in sociology in 1953, according to the school.
After completing his bachelor's degree at UCLA, Meyer Luskin earned an M.B.A. from Stanford University in 1951.

"I live and work in the region and wanted to give back in a creative and unique way that helps UCLA to continue its important work with the broader community," Luskin said. "In addition to educating students, providing them a way to improve their lives, and conducting research, UCLA should apply faculty expertise to help address our society's biggest issues, and I am appreciative of being able to contribute to those ends."
Franklin D. Gilliam Jr., dean of the School of Public Affairs, noted that the school also houses the Luskin Center for Innovation, funded by support from the Luskins in 2008. The center works closely with elected officials and nonprofit, business and community leaders to develop solutions to important policy challenges.
"Our students and faculty and the community at large deserve a first-class conference facility befitting UCLA's stature as a top public research university," said Executive Vice Chancellor and Provost Scott Waugh. "Hosting scholars from around the world and engaging with the community to address leading problems require modern facilities and overnight accommodations for participants."

Waugh said the conference facility and new faculty club are important tools in attracting and retaining top researchers. The project, which is tentatively scheduled to begin in the spring of 2012, is pending approval by the University of California Board of Regents. The project will use no state funding.
Both the school and the residential conference center will be named after the Luskins. A naming ceremony for the School of Public Affairs is scheduled for March 18.
"UCLA is among the greatest universities in the world, and it gave me my start," Luskin said. "It's essential that I give back so that others can enjoy the same benefits."