Mobile Furniture Moves Classrooms Towards the Future
GRAND RAPIDS, Mich. — The future of classroom furniture can now be found in more compact and flexible designs. Education Solutions, a division of Steelcase Inc., has redefined its approach to classroom furniture by incorporating designs that accommodate the needs of students, teachers and the educational approach of the future.
Technology is not the only thing that is advancing in the classroom. Steelcase Education Solutions developed furniture that can fit the ever-changing needs of a students' learning environment. Furniture is not just stationary anymore, as Steelcase shows with its focus on active learning, according to Barry Brennand, sales representative for Steelcase Education Solutions.
"We focus on classrooms, social learning spaces, places where frankly real learning gets done," Brennand said.
While 21st century learning is becoming increasingly popular with schools, students and architects — furniture companies must adapt to the change in design as well. One example of how Steelcase incorporated furniture to transform learning took place in the main library at Texas Tech University (TTU) in Lubbock, Texas.
Collaborative work settings were designed where students could gather around a desk and work off their laptops or set up a web cam to be projected on the flat screen television attached to each workstation. TTU calls the space GroupWorks, and it has become a popular destination on campus.
"The idea is to provide an environment for the way students work now, and it's all about group work. It's about students working together, from on campus, across campus, across the state — wherever the group members may be," said Justin Daniel, systems librarian for TTU, who hatched the idea for the GroupWorks area.
The GroupWorks space occupies 3,200 square feet of the library's first floor and is opened 24 hours a day for students to utilize.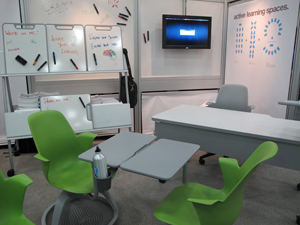 "We're open 24 hours a day. Anytime you go out there, there are people using them, and in different ways, too," Daniel said. "Groups and individuals use them. Sometimes they multitask to the point I can hardly believe. They'll have a video on one monitor, a Word document on another monitor, and they're listening to something with their ear buds."
Along with Steelcase providing furniture for interactive and collaborative study areas in the library at TTU, the company also produces furniture for K-12 classrooms.
Northview High School in Grand Rapids, Mich., was looking for a solution for its classrooms. They wanted to incorporate a variety of learning modes into classroom space including lecture, large group discussions, small project groups and presentation space. They also wanted to make sure the classroom could be flexible and convert quickly to the changing needs of the students and/or lesson.
"When I went to school we all sat in rows and faced the front of the classroom, but now most K-12 classrooms are taught in a different way where student participation and collaboration is key," explained Brennand.
Steelcase Design Studio, in collaboration with the design and innovation consulting firm IDEO, created node — a chair designed to meet the many styles of learning. Northview was a beta site for the new chair, which caused significant improvement in classroom collaboration and engagement.
After several surveys and studies, node was found to improve the overall classroom experience for 97 percent of students.
"The next step is collaboration with peers, and that's the piece that's so amazing with these desks, and it's also one of the steps that gets skipped," said Sheri Steelman, Northview High School teacher. "[Some teachers] might lecture the whole time, but this way, it makes it so easy for students to work together."