Clemson University Begins Student Housing Construction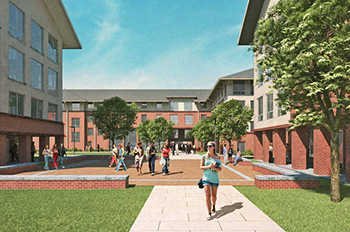 CLEMSON, S.C. — Clemson University recently began construction on its largest building project to date. The 650,000-square-foot Douthit Hills project will include seven housing facilities for more than 1,730 students — all of which will be interconnected by outdoor spaces that align with Clemson's Tillman Hall landmark.
Columbia, S.C.-based Boudreaux Group is serving as the architect on the $212.7 million project, joined by Virginia Beach, Va.-headquartered Clark Nexsen and Washington, D.C.-based Ayers Saint Gross for architectural design and engineering. Greensboro, N.C.-based Holden Construction Company is serving as the general contractor. The project is designed to achieve LEED Silver certification.
The South Carolina State Budget and Control Board Tuesday approved the sale of $183 million in bonds to finance construction of the student housing, retail and activity hub on the former Douthit Hills housing development. The project is divided into three zones: the West Zone, Central Zone and East Zone.
The West Zone will be comprised of five- and six-story residence halls, with 980 beds for upperclassmen. The new buildings will be a mix of studios and two- and four-bedroom apartments.
The East Zone will feature another group of four-story buildings, which will house 750 beds in traditional doubles for a select group of freshman. The East Zone housing facilities will also include a new-to-Clemson bathroom style called a "wet core." Three locations on each floor will hold a cluster of three to four bathroom modules that include a toilet, sink and shower behind a single closed door allowing for privacy within the community.
The Central Zone will feature a 400-seat dining facility, a campus bookstore, a fitness center and other services for residents. The dining facility will also provide a gathering space for student groups to study or meet. Retail establishments such as a Starbucks Coffee, a convenience store and a deli will also be included. Construction is scheduled for completion in summer 2018.
While Douthit Hills is geared toward upperclassmen, the $96 million Core Campus project, which is also underway, will primarily house freshmen, sophomores and honors program students. The 260,000-square-foot project will have beds for 700 students and will include a dining hall that seats up to 1,000, replacing facilities that are more than 60 years old. The project is slated for completion in December 2016.
The student housing projects are being constructed at a time when the university is trying to catch up with its own growth and reach into a private housing market that has been growing rapidly to provide enough beds for Clemson students, reported Greenville Online. Clemson has increased its enrollment by more than 5,000 students over the past 10 years while reducing the number of on-campus housing units. A recent study by the city of Clemson found current rental properties at 99 percent occupancy. Several hundred students were living in hotels last semester because apartments they had planned to rent hadn't been given the green light for occupancy by the city in time.