Corpus Christi ISD Constructs Largest High School Yet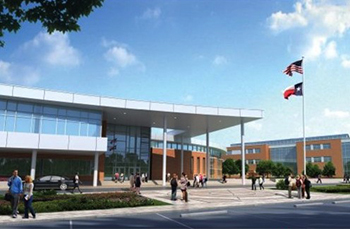 CORPUS CHRISTI, Texas — The new $93.2 million Veterans Memorial High School in Corpus Christi is now under construction, slated for completion in August 2015. This is the first high school to be constructed in the Corpus Christi Independent School District in 45 years. Not only will it help accommodate growing needs on the city's south side, but it will also serve as a beacon for the community.
"The school board is excited about the new opportunities that will be available to CCISD students," said Lorette Williams, director of communications for the district. "The district has not opened a new high school in over 45 years, so the opening of Veterans Memorial High School will not only be significant for students and staff, but for the entire community."
Gignac & Associates designed the 380,000-square-foot building, and Fulton Coastcon is serving as the construction manager on the project. Both companies are based locally in Corpus Christi.
The new school will be roughly twice the size of the district's biggest high school and will serve about 2,400 students. It features a fat "L" classroom design, Williams said, with flexible learning spaces throughout, large group instructional areas and a small learning community concept. The layout includes science labs, business labs, a multimedia/library room, fine arts, athletics, and ROTC and AG program areas, as well as an auxiliary gym and a 1,500-seat competition gym. It will pursue LEED certification.
When the school opens it will initially serve about 850 students as district officials do not want to force juniors and seniors to transfer. They also do not want to have to adjust the school boundaries multiple times during the first few years of operation, reported KRIS TV CBS. However, ninth and 10th graders already zoned to Veterans Memorial are required to attend when the school opens.
The mascot of the new high school will be the Eagles.