University of Florida Completes New Business Building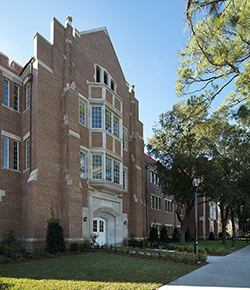 GAINESVILLE, Fla. — The University of Florida's new $22.8 million, state-of-the-art Heavener Hall School of Business building recently welcomed its first students. The three-story, 57,000-square-foot facility serves as the new home for 2,800 undergraduate students enrolled in the Warrington College of Business Administration and brings all college activities under the same roof for the first time.
Designed by SchenkelShultz Architecture of Orlando, Fla., in association with Robert A.M. Stern Architects of New York, Heavener Hall's design and construction used innovative Building Information Modeling (BIM) software to reduce construction conflicts, improve efficiencies and ensure work was completed successfully within the tight footprint. It also allowed for a "smart" record model of the completed building, which was designed to reflect the Collegiate Gothic architectural style found throughout the university's historic district.
In addition to both small- and medium-sized classrooms, the facility includes study rooms, academic advisement areas, student commons, informal collaborative zones, a first floor café, faculty offices and more. It also provides round-the-clock access to the university's business students.
"As you move up in the building, the first floor is more student-activity centric, the second floor is student-faculty related and the third floor is more related to faculty with these specialty programs," said J. Thomas Chandler, AIA, president and chief operating officer of SchenkelShultz Architecture, to School Construction News at the project's outset.
"This is a 21st century higher education building," Chandler added. "The whole purpose of this new home was to create this collaborative and interactive environment for students and faculty. This gives them the opportunity to implement significant goals and objectives that the administration has for 21st century higher education."
The building also helps meet the university's sustainability goals and was designed to achieve LEED Gold certification. It incorporates green elements, such as highly insulated roof and walls, green glazing systems and an HVAC system that uses a chilled-beam approach. The design team also took advantage of the master campus storm-draining system already in place.
Ajax Building Corporation of Ajax, Fla., broke ground on Heavener Hall in May 2013. The building is named for James W. "Bill" Heavener, a 1970 graduate of the School of Business and current CEO of Full Sail University, who donated a substantial sum to the building's development.