The Bonita Center for the Arts Takes Center Stage
The Bonita Unified School District has long wished for a performing arts venue that would stand as a landmark not only for the district's 13 schools, but also for the community as a whole. That wish came true this past fall.
A celebratory concert on Oct. 18 marked the debut of the Bonita Center for the Arts (BCA) in San Dimas, Calif. — a facility that will serve both the cities of San Dimas and La Verne. Students from throughout the two communities gathered to show off the venue's wide range of capabilities. Everyone from student choir singers to band musicians performed, bringing the audience to a standing ovation. Since the facility's opening, the excitement has yet to stop.
Culver City, Calif.-based Rachlin Partners designed the BCA, while Riverside, Calif.-based Tilden-Coil Constructers Inc. served as the general contractor. Construction started in September 2012 and took approximately two years to complete.
The 29,250-square-foot center features a 700-seat main indoor theater as well as an outdoor performance area. Both can host drama, dance, lecture, band and choir performances. When the schools are not using the facility, it can also be leased to visiting theater companies, which can help generate additional income to offset operation costs, Rachlin said.
The center is committed to providing services to all grade levels and to any school within the district that would like access. An annual planning meeting with potential district stakeholders is held to discuss how the facility will be used, said Bill Cox, theater manager for the BCA. From this meeting, a booking calendar is created for the academic year.
"With regard to the 'type' of production work [we can do], I would say we are only limited by our imagination," Cox said. "Any type of performance work is possible. The BCA is a state-of-the-art venue with the latest in theatrical technologies. What we can do now is provide a forum where students can experience and participate in a professional venue — a concert hall that is suited well for music and dance."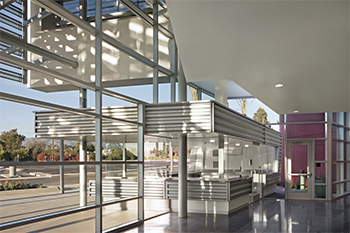 The school district wanted a centralized venue that could accommodate these different types of performances; however, Rachlin said he quickly learned that different performance types have different acoustical requirements. For instance, a musical theater configuration would offer different reverberation times than a design for lectures.
"We worked very closely with acoustical engineers to create a system called variable acoustics," Rachlin said. "It's a basket weave–design shape customized to enhance reverberation time and to have a very live acoustical chamber."
Another key part of the facility's intricate design included the air supply plenum located directly underneath the slab of the orchestra, parterre and balcony levels, added Doug Nguyen, project manager for Tilden-Coil Constructors Inc. This design allowed the theater to avoid running overhead ductwork that would negatively impact interior aesthetics.
One hurdle was the complicated coordination process required to install the building's plumbing, electrical, HVAC and low-voltage trades — all of which were required to be hidden from the audience view, according to Nguyen. "The pipes, conduits and pathways were all required to be installed inside CMU walls and cast-in-place concrete walls," he said. "With cast-in-place concrete walls being over 30-feet high, this was a tremendous challenge to overcome."
In addition to figuring out the acoustics and building systems, the facility's sustainable design posed another challenge. The design team created a two-story glass façade that brought natural light into the space. However, they also needed to shade that space so hundreds of patrons could comfortably stand in the lobby without a high demand for air-conditioning. Plus, the design team wanted to make both a visual and sustainable connection to San Dimas' surrounding neighborhood and dry, sunny environment.
The design team shaded the glass façade by adding computerized louvers that track the angle of the sun. The louvers deflect sunlight to keep interior spaces cool, thus minimizing the demand for air-conditioning. The solar-shading fins open and close automatically to allow more light in on cloudy days or less light on sunnier days. An outdoor solar shade overhang was also added to help expand the lobby space.
"There is strong sunlight beating on the glass that contributes to solar heat gain," Rachlin said. "The computer can track the sun and, on a sunny day, can close the louvers so that the sun doesn't hit the glass too much and saves on energy."
The playful juxtaposition of materials such as stucco, concrete, metal panels and landscaping helped add to the inviting façade. Drought-tolerant plants were selected to accommodate a low-water-usage landscape with low maintenance needs. Wherever possible, drip irrigation was also used as a highly efficient method of delivering water to support plant growth. To make sure visitors understood the building's sustainable features, there are placards on display that provide an educational experience to all who visit. The building is currently pending Collaborative for High Performance Schools (CHPS) verification, California's highest standard for green education facilities.

To read more about the Bonita Center for the Arts project, check out the May edition of School Construction News.