Six N.J. Green Schools Granted More Than $15,000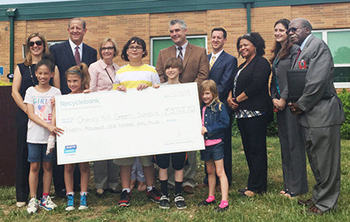 CHERRY HILL, N.J. — A number of schools across the nation, including six in Cherry Hill, N.J., have received sustainability grant funding through the 2015 Recyclebank Green Schools Program, helping make their innovative eco projects a reality. The program, which encourages and rewards everyday steps toward sustainability, is supported by a partnership with sustainable paper company Domtar.
Each year, the Recyclebank Green Schools Program awards grants of up to $2,500 per school to support unique environmental projects. The six Cherry Hill schools were selected after completing several interactive features on the Recyclebank website. These six schools include Henry C. Beck Middle School, Clara Barton Elementary School, Bret Harte Elementary School, Cherry Hill High School East, J. F. Cooper Elementary School and Joyce Kilmer Elementary School.
Recyclebank, a company who has encouraged environmental sustainability since 2007, rewards users for taking everyday green actions with discounts and deals from local and national businesses. Local residents can convert their Recyclebank Rewards points into dollars to support both the project and school of their choice. This year 38 schools participated in the program, amassing 17,258 points.
The resulting grants totaled $15,162.06 after Domtar provided an additional match grant of $500 per school, according to NJ.com. Through Domtar's collaboration with the initiative, this year the Green Schools Program added four new prizing sub-categories: Garden and Water, Recycling and Waste Reduction, Art and Sculpture, and Sustainable and Creative Paper Usage.
Domtar presented Cherry Hill's Henry C. Beck Middle School with 40 cartons of Sustainable EarthChoice Paper for winning the top prize in the Art and Sculpture Category. In addition, Imagine Hill Avenue Environmental School of Toledo, Ohio was awarded the grand prize for the Most Innovative Project. Other winners include John Story Jenks Academy for the Arts and Sciences in Philadelphia (Garden and Water), North Allegheny School District in Pittsburgh (Recycling and Waste Reduction), and W.A. Meacham Middle School in Fort Worth, Texas (Sustainable and Creative Paper Usage).
In response to the grants, all winning schools have established innovative projects plans for the near future. For example, Cherry Hill East plans to use its funds to continue reduction of single-use disposable plastics. The school currently uses a water filtration system, which keeps track of how many plastics water bottles the school avoids sending to landfill. The Recyclebank Green Schools Program grant also will assist in maintaining this filtration system and in educating the school and community about the importance of using reusable containers, according to Cherry Hill Superintendent, Maureen Reusche, Ed. D.