Clemson University Constructs Massive Residential Village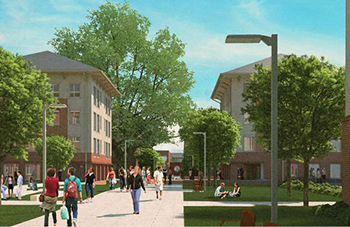 CLEMSON, S.C. — Clemson University is currently constructing a new mixed-use residential village called Douthit Hills, it's largest building project to date. When the 80-acre development opens in the summer of 2018, it will include seven residential buildings and a central hub building — all of which will be connected by outdoor spaces and aligned with Tillman Hall, a campus landmark built in the 1890s that is currently home to the university's education department.
The project's primary goal is to help transform the physical campus and rejuvenate the campus experience so that the university can reach its goal of becoming a Top 20 institution. It is also designed to encourage students to stay on campus longer by providing them with a quality living and learning environment. While the new buildings will include contemporary interior spaces, the exteriors will feature traditional brick facades and deep overhangs that match the Clemson aesthetic, making the village an ideal new entrance for the campus.
The central hub facility will be a key place for students to meet and engage, with a bookstore, coffee shop, 400-seat dining hall, convenience store and deli. Housing on the complex's west side will be geared toward upperclassmen, with four apartment-style buildings. Approximately 700 beds will be available in studio-, two- and four-bedroom apartments. On the east side, an additional 780 beds will be spread across three buildings in double-occupancy rooms for students enrolled in the traditional Clemson program.
All eight buildings will be LEED Silver certified and include sustainable features such as directional, non-intrusive LED parking-area lighting that can be programmed remotely to shut off when not in use. A tree survey was also conducted on campus in order to preserve as many trees as possible during the project. Of the 800 trees existing on campus prior to construction, 300 will need to be removed; however, 400 additional trees will be planted in their place.
While the $212 million expansion project construction will focus on the eight new buildings, a large portion of the work will also go toward establishing supportive infrastructure, according to Clemson University team members Mike Parker, project manager, and Doug Hallenbeck, executive director for University Housing and Dining. This includes work related to utilities such as natural gas, potable water, storm water, sanitary sewers, electrical and communication systems, a central energy plant with chilled water distribution, roads and parking lots.
Washington, D.C.-based Ayers Saint Gross, Columbia, S.C.-based The Boudreaux Group and Virginia Beach, Va.-headquartered Clark Nexsen worked collaboratively to design the massive project. Parker and Hallenbeck said that students were also actively involved in the early phases of design, and focus groups have been used throughout the project to help make decisions on things such as furniture and food options.
The project team also has had to work closely with the city of Clemson residents, many of whom live adjacent to the development and were concerned about the impact this project would have on their neighborhood. It took several meetings and some honest conversations, but the two groups were able to come to a resolution, added Parker and Hallenbeck.