University of Texas Opens New Oral Health Care Center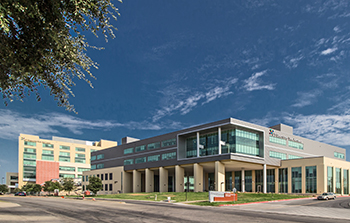 SAN ANTONIO — The University of Texas Health Science Center in San Antonio recently opened its new Center for Oral Health Care and Research. The facility features modern and technologically advanced equipment, enabling the university to provide students and faculty with improved multi-specialty dental care, education, training and research.
The new $96.5 million facility will include 400 new dental chairs, radiology facilities, simulation labs and expanded research space. The design is meant to enhance patient comfort and convenience, while also providing a clinical space that closely resembles the environments students will practice in after graduation.
Adjacent to the Medical Arts and Research Center, home to the university's School of Medicine's faculty practice, the center's location facilitates collaboration between the two disciplines and allows patients to access a range of dental and medical care in one location.
The first two floors of the 198,000-square-foot facility are dedicated to faculty practice in various specialties including endodontic, oral and maxillofacial surgery, periodontics, pediatric dentistry, geriatric dentistry, orthodontics and prosthodontics. Third- and fourth-year dental and dental hygiene students will have access to the third and fourth floors where a 200-operator general dentistry clinic will be located.
"The new building will enable the school to provide multispecialty care in a modern space that is designed to provide the best possible patient experience," said Larry Schnuck, AIA, vice president and leader of project architect Kahler Slater's higher education specialty practice, in a statement. "That will help the school attract additional patients, ensuring that it continues to obtain and conduct important clinical research and helping it sustain its top-tier ranking in education, research and patient care."
Kahler Slater of Milwaukee and Marmon Mok Architecture of San Antonio, with Houston-based general contractor Vaughn Construction, included the latest technology in the facility's design. According to a statement from Kahler Slater and Marmon Mok, the center will feature digital lighting and examination equipment, large monitors to facilitate the viewing of dental images by both practitioners and patients, computers used for accessing and maintaining health records and an environmentally friendly, automated system that cleans water lines and treats waste water at the dental chair.
The center will also include a dental surgery operating room and overnight care for those undergoing extensive surgery and a floor plan designed for easy navigating. A small conference room located near the student and resident clinics enhance learning by facilitating interaction between the students and faculty. Large windows will provide natural light, and an open courtyard will create a welcoming environment to the new Center for Oral Health and Research.