University of Chicago Dedicates William Eckhardt Research Center
CHICAGO — University of Chicago (UC) leaders recently cut the ribbon on the new William Eckhardt Research Center, which now houses UC's first molecular engineering program and its Nobel Prize-winning physical sciences research groups.
The innovative interdisciplinary research center, designed by the Chicago office of HOK with the building enclosure by James Carpenter Design Associates (JCDA) of New York, is located on the university's main campus south of downtown Chicago. It includes state-of-the-art laboratories, offices, conference rooms, a 150-seat conference facility and a café. Five floors above grade provide flexibility and infrastructure for a variety of different lab types ranging from optics to chemistry. To isolate highly specialized labs from vibration and electromagnetic interference, two of the center's seven floors are below grade.
The center also houses the university's Department of Astronomy and Astrophysics, the Kavli Institute for Cosmological Physics, the Institute for Molecular Engineering and the Dean's Office of Physical Sciences. World-leading research teams working across multiple disciplines in the fields of chemical, electrical, mechanical and biological engineering as well as more traditional materials and physical sciences, now call the state-of-the-art facility home.
"We are proud to contribute to the University of Chicago's commitment to building on its position as a leader in world-changing research through the development of this new Eckhardt Center," said Rebecca Nolan, IIDA, LEED AP, managing principal for HOK in Chicago, in a statement. "This is a significant addition to an historic urban campus and to the global scientific community."
"The diversity of research that takes place here extends from the smallest scale possible to the largest imaginable, ranging from molecular manipulation to increasing our understanding of the universe," added Bill Odell, FAIA, LEED AP BD+C, director of science and technology for HOK. "This building is a true nexus for transformative, interdisciplinary discovery."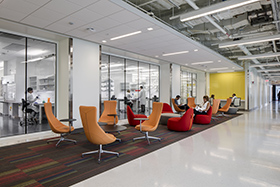 Carefully planned interaction spaces include a large conference facility, pre- and post-event space, a café, light-filled hallways and corner collaboration areas with open views. Each floor is considered a neighborhood, with a home base at the north end providing the largest gathering spaces. On the building's top floor, an open balcony provides a view of the Chicago skyline to the north. Physically connecting the building to two adjacent research buildings further supports collaboration, and the main lobby provides a link to a new landscaped quadrangle designed by Michael Van Valkenburgh Associates.
"The University of Chicago scientists and engineers who participated in the design process emphasized to us that, in addition to creating opportunities for formal collaboration, chance interactions and the ability for researchers, faculty and students to have conversations in informal settings are invaluable," said Mickey Collins, AIA, LEED AP, HOK's project manager, in a statement. "Our team designed every aspect of the Eckhardt Research Center to foster the type of interdisciplinary collaboration required to generate scientific breakthroughs."
The highly sustainable facility also serves to help link users to nature and light. For example, the dynamic envelope design is based on revealing light as an expression of nature. Each facade is uniquely responsive to the site, harnessing light as an organizing principle for the building's performance and human experience. To support the center's mission to drive the research and development of renewable and environmental resources, sustainability is integrated into the building, which is expected to achieve LEED Silver certification.