Drexel University Wins Awards for Student Housing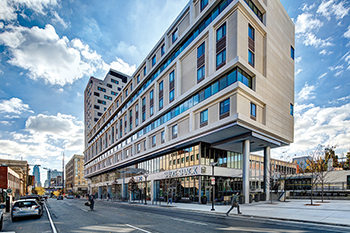 PHILADELPHIA — Three student housing projects owned by American Campus Communities Inc. and located at Drexel University in Philadelphia were recently awarded for their success.
The National Association of Home Builders (NAHB) named the 861-bed Chestnut Square student housing community the 2015 Best Mixed-Use Community and the 2015 Best Student Housing Rental Apartment Community as part of its Pillars of the Industry Awards. The 1,315-bed Summit at University City project was also acknowledged with the Philadelphia Business Journal's 2015 Heavy Hitters of Real Estate Award, while the University Crossings project was recognized with the 2015 Student Housing Business Innovator Award – Most Creative Public-Private Partnership, On-campus.
New York-based Robert A.M. Stern Architects designed the 361,200-square-foot, mixed-use Chestnut Square student housing and retail development. The $97.6 million project was completed in September 2013. "Chestnut Square helped transform our campus and our neighborhood, and it richly deserves these accolades," said John A. Fry, Drexel's president, in a statement. "American Campus Communities develops and runs great buildings, including three at Drexel, and our partnership with American Campus has allowed us to focus on academic priorities and leave infrastructure investments and challenges to the experts."
The Summit development, which opened earlier this fall, is the latest of the ACC projects. The $170 million, 1,315-bed Summit marks a significant development in the school's 2012 Campus Master Plan with the transformation of the Lancaster Avenue corridor. It helps bring positive development to its surrounding neighborhoods and West Philadelphia as a whole, and the community has been involved throughout the process. Philadelphia Councilwoman Jannie Blackwell's office, the neighboring Community Education Center, the Lancaster Avenue Business Association and the Powelton Village Civic Association all provided input for the project, according to Drexel Now.
"Sometimes it is hard to accommodate big changes in the area, but the community has been candid and forward-thinking in our interactions," Testa told Drexel Now. "It's exciting to see just how good, collaborative planning results in vibrant, energetic, University City activity."
While not a new-build project, University Crossings underwent a $13 million exterior renovation that was completed in late 2014. The student housing facility opened in 2002 in the Pennsylvania Railroad Office Building, an 87-year-old structure listed on the National Register of Historic Places. The project included exterior cleaning, repointing bricks and water infiltration repairs.
The Drexel University-American Campus partnership includes all three projects that expand the university housing capacity by approximately 3,200 beds. All projects were funded by American Campus Communities as a part of their American Campus Equity (ACE) program, which provides universities with the option to develop or sell student housing while preserving their debt capacity to fund core infrastructure.
"Our partnership with Drexel University has yielded three award-winning student housing communities," said Bill Bayless, president and CEO of ACC, in a statement. "That success is a testament to President Fry's unparalleled vision for student housing at the university and our shared, unrelenting commitment to student success."