Five Education Construction Projects to Watch in 2016
For many schools and universities, upgrade projects and new construction never cease. While innovative and notable projects are continually taking place throughout the country, School Construction News has selected five projects in particular to follow in 2016, checking in throughout the year to update readers on important design and construction milestones from groundbreaking ceremonies to grand openings. Read on to learn more about the 2016 projects to watch.
Project Name: Woodman Family Community and Performance Center
Location: Providence, R.I.
Cost: $27 million (including various campus upgrades)
Start Date: June 2015
Estimated Completion Date: Late 2016
Mission: The facility will serve as the hub of academic, artistic, social and spiritual life for the Moses Brown School campus.
Project Team: DEC Consulting Company LLC (Owner's Representative); Durkee, Brown, Viveiros & Werenfels (Architect); Shawmut Design & Construction (Construction Manager); Theatre Project Consultants (Theatre Consultant); Odeh Engineers Inc. (Structural Engineer)
Highlights
• The more than 25,000-square-foot performance and assembly facility will replace the school's 150-year-old Alumni Hall.
• The multi-use facility will feature a main hall capable of holding 540 people for musical theater performances, exhibitions, workshops and many other school and community activities.
• The project will include a renovation to the existing Walter Jones Library, adding a learning and resource center and an archive storage and research facility to house 230 years' worth of artifacts, books, documents and photos collected by the school.
Project Name: Innovate ABQ Campus at the University of New Mexico
Location: Albuquerque, N.M.
Cost: $35 million (Phase I)
Start Date: Summer 2016
Estimated Completion Date: August 2017
Mission: The Innovate ABQ campus will provide high-tech research and development facilities for University of New Mexico programs as well as five floors of student housing.
Project Team: Signet Development, Goodman Realty Group and Deker/Perich/Sabatini (Project Development Team); Perkins + Will
(Master Planning Firm)
Highlights
• Innovate ABQ aims to create a multi-dimensional, integrated work, live, play community.
• Research and commercial labs, science and technology companies, educational programs, business services, support services, and commercial and retail businesses will share space with a business incubator.
• The 159,000-square-foot mixed-use building will include residential units for upperclassman, graduate-level students and UNM students enrolled in the Innovation Academy.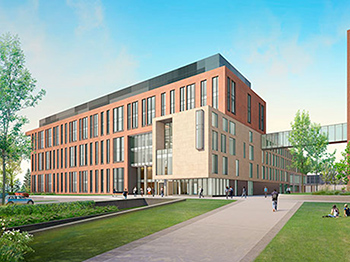 Project Name: University of Kentucky Research Building Two
Location: Lexington, Ky.
Cost: $265 million
Start Date: October 2015
Estimated Completion Date: Summer 2018
Mission: The facility will house scientific research that will work to resolve health disparities in Kentucky such as cancer, obesity, diabetes, cardiovascular diseases, and substance abuse, while also attracting world-class researchers to the campus.
Project Team: HGA Architects and Engineers (Lead Design Architect); Champlin Architecture (Executive Architect and Architect of Record); Jacobs Engineering Group, Affiliated Engineering Consultants, CMTA Engineering Consultant and THP Limited Inc. (Engineering Consultants); and Towers|Golde (Landscape Architect)
Highlights
• The 306,000-square-foot collaborative research center aims to provide a work environment where all users can intersect both formally and informally to collaboratively develop methods for chronic disease prevention and treatment.
• The building's inviting, open lobby areas will foster interaction between researchers and community participants, visible stairwells will encourage physical activity and a café will serve healthy food.
• Thanks to an evolved workflow environment that differs from traditional secluded laboratories, wet lab researchers and data analysts will work together in an open space to tackle complex chronic diseases that require multiple specialties.
Project Name: University of Massachusetts Dartmouth School for Marine Science and Technology (SMAST) Expansion
Location: New Bedford, Mass.
Cost: $55 million
Start Date: October 2015
Estimated Completion Date: 2017
Mission: The expanded School for Marine Science and Technology (SMAST) will result in a comprehensive marine science campus in New Bedford, which is one of top fishing ports in the country.
Project Team: BOND (Construction Manager); Ellenzweig (Architect); Hill International (Project Manager)
Highlights
• The facility will include a new 76,000-square-foot building with state-of-the-art laboratory facilities, high bay area and seawater research facility, as well as select renovations to the existing SMAST facility next door.
• Located on the former Naval Reserve Center, the new building will bring the school and the state Division of Marine fisheries together to engage in education, research and policy related to commercial fishing, coastal preservation, ocean observation and climate change.
• The project includes space for the Division of Marine Fisheries and dive gear program to be accommodated in both buildings.
Project Name: Kihei High School
Location: Maui, Hawaii
Cost: $130 million
Start Date: January 2016
Estimated Completion Date: 2018
Mission: The sustainable new high school will serve approximately 1,650 students in grades nine through 12, easing overcrowding in other nearby facilities.
Project Team: Group 70 International (Architect, Planner, and Civil Engineer)
Highlights
• When complete, the 215,000-square-foot Kihei High School will be the first net-zero high school in Hawaii and will be powered by clean and renewable energy sources
• The school will seek LEED Silver certification from the USGBC
• In addition to serving students, the new school's gymnasium and a stadium will also serve as a community resource.