BelovED Community Charter School to Build New Middle School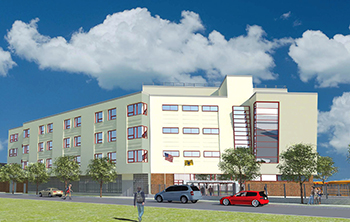 JERSEY CITY, N.J. — BelovED Community Charter School recently acquired a half-acre site in Jersey City for the soon-to-be-constructed BelovED Middle School. The new 40,000-square-foot, four-story middle school will serve 240 students in grades six through nine. Architectural and planning firm Urbahn Architects, with offices in New York and Newark, N.J., is serving as the project's architect.
Working with a small site forced the design team to be particularly creative in developing and maximizing a functional program. "It's a very dynamic design, in which many functions are incorporated," said Urbahn Architect's principal Marty Stein, AIA, in a statement. Stein originally spearheaded the design of the original BelovED K-5 school and its recent addition, and is now leading the design of the middle school.
Upon completion, the new middle school will offer 15 general classrooms, four half-classrooms, two science rooms, two art rooms and a music room. A cafetorium — a combination cafeteria and auditorium space — with a warming kitchen, a gymnasium with a mezzanine, a media center/library, administrative offices, and a large sub-dividable multipurpose room to be used for events and testing will also be included. In addition, the school will include a 31-space parking lot and outdoor assembly and recreation space.
The site is located within a FEMA-designated flood zone, which added another level of complexity to the project. As such, Urbahn Architects Associate and Project Manager Emmanuel Perez, AIA, LEED AP, said in a statement that the design team is specifying all programmed space and critical systems on the second through fourth floors. "The ground level is dedicated to parking, building access and recreation. The upper floors are structurally cantilevered above the parking lot," he added.
Due to the low-bearing soil at the site, the foundation system will consist of subterranean concrete piles and pile caps, which will support the new school's structural steel frame, according to a statement by Urbahn Architects.
Friends of the BelovED Charter School, a non-profit organization established to support the development of BeloveED Community Charter School and other charter schools, is the project's developer. The organization is expected to obtain a mortgage and construction financing of $12 million from New Jersey Community Capital, according to Bret Schundler, a former mayor of Jersey City and former commissioner of education for the State of New Jersey.
Schundler assisted the local community in establishing the original BelovED Community Charter School, which opened in 2012 across the street from the new middle school site. He currently serves as chairman of the BelovED Community Charter School Foundation. BelovED, which currently serves 720 students, is named in honor of Martin Luther King, Jr.'s vision of the "Beloved Community."