Renovation Gives An Atlanta Middle School New Life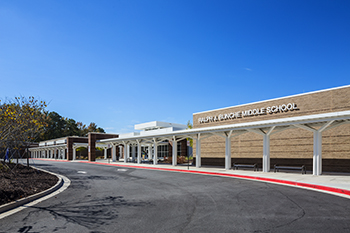 Renovation and expansion projects provide great opportunities to breathe new life into an aging institution. The recent renovation and expansion of Ralph J. Bunche Middle School, part of Atlanta Public Schools, added more space for a growing student body and brought the facility into the 21st century.
The original 100,000-square-foot school was built in 1977 and featured an inefficient design full of tight triangular and trapezoidal classrooms, confusing corridors and minimal natural light, according to Bob Just, architect and principal for the K-12 education group of Atlanta-based Cooper Carry, the design firm tasked with redesigning the school. To give Bunche a modern character and improved educational environments, the Cooper Carry team of Just, Associate Sophia Tarkan, and architectural staff members Joseph Martin and William Callahan, provided inviting learning spaces, simplified wayfinding and ample natural light. General contractor JE Dunn Construction of Atlanta brought the design to life.
The, $32 million overhaul brought the campus to 149,000 square feet (comprising a 64,000-square-foot addition and an 85,000-square-foot renovation). It now serves 975 students in grades six through eight.
While the majority of the building is devoted to more than 50 classrooms, it also offers each individual grade three dedicated science labs and one dedicated computer lab. The school's media center, previously located in the basement, was moved to a sun-drenched spot that offers a view of the outdoor courtyard. The newly redesigned cafeteria features a dramatic exposed concrete waffle-slab ceiling and food court-style serving lines.
The school's new administration area features high ceilings and porcelain floor tiles, and leads to a courtyard that divides the fine arts and assembly spaces from the classrooms. A brand new gymnasium was construction as well as a state-of-the-art, 520-seat auditorium with a full stage. An acoustically designed music suite, fixed audience seating, a sound system and theatrical lighting join band, choral, orchestra, dance and art spaces.
Outside, the project team fully reconfigured the existing parking, drop‐off and bus areas and added a storm water management system and landscaping. The design includes hundreds of new trees and shrubs that create an arboretum-style environment. New softball and football fields were included along with a 400-meter track.
Despite proper testing, unsuitable soils posed some unexpected challenges as the JE Dunn team — including Group Manager Paul Fenzl, Senior Project Engineer Stacey Flint, Project Engineer II Nick Clements and Superintendent Nick Nowlin — was forced to complete unanticipated site work quickly and efficiently to keep the project on track. Using BIM, implementing lean principals, relying on hyperlinked documents as opposed to paper plans and integrating the Last Planner System of project scheduling were keys to the project's success.
The Last Planner System centers on pull planning sessions, in which all "last planners" meet to determine major milestones. By working from end to beginning, any "fluff" built into a schedule by subcontractors is all but eliminated, according to a statement by JE Dunn. The sessions allowed subcontractors to identify and address any possible impacts, while weekly work plans helped keep them on track to reach critical milestones.
"The Last Planner system allows us to implement the schedule in a way that is more innovative," Jackie Avello, project manager with JE Dunn Construction, said. "When problems like rock and soil and waterproofing happen, we keep the subcontractors in the loop and [ask how we can revamp our game plan]. As a result, there is a higher trust level between the trade partners as well as the JE Dunn Construction team and the architects."
Bunche Middle School reopened for classes in August 2015 and the school community hosted an official ribbon-cutting ceremony in October 2015.
Read more about this project in the June Safety & Security issue of School Construction News, available soon.