California Baptist University Project Reaches Milestone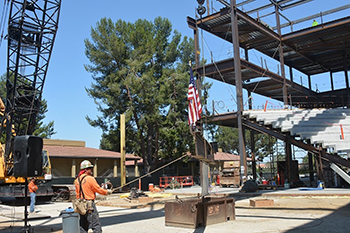 RIVERSIDE, Calif. — California Baptist University (CBU) recently celebrated the topping out of a new events center and arena located on the university's main campus in Riverside. City and university officials, the construction and design teams, and members of the community attended the beam-signing ceremony.
Santa Ana, Calif.-headquartered SVA Architects and global design, architecture, engineering and planning firm HOK designed the 153,000-square-foot events center and arena, which will seat 5,050 people with room to expand to more than 6,500. CBU selected Tempe, Ariz.-headquartered Sundt Construction Inc. as the general contractor for the $73 million project, which will create the 66-year-old university's largest gathering space to accommodate a surge in growth in recent years.
"Not only will this facility create additional event space for the university's fast-growing student body, but it will support all facets of their athletic, academic and spiritual life program," said Sundt Vice President Robert Stokes in a statement.
The two-story, multi-use facility will be a hub for CBU athletic events, commencement exercises and orientation activities, along with the university's chapel program, which serves more than 5,000 students a week. The structure will also feature locker rooms for home and visiting teams as well as a new athletics suite and offices.
The facility is expected to be complete in April 2017, in time for CBU commencement ceremonies in May.