The High Cost of Deferred Maintenance
By Jay Pearlman
Many higher education campuses across the country desperately need to address mounting deferred maintenance backlogs. However, many of these institutions opt to allocate capital to more visible programs, leaving maintenance needs unmet for far too long. The resulting deferred maintenance may save money in the short term, but in the long term can lead to higher costs, as poorly maintained systems burn out before their expected end of life.
In some cases, funds to address deferred maintenance projects are simply not there, as many institutions continue to rebound from the economic downturn of 2007 to 2009. But in all too many instances, facility managers are unable to make the case for funding this necessary maintenance.
The first step to solving this problem is ensuring that the key decision makers have an accurate understanding of the high cost of deferred maintenance.
Competition for Capital
Before presenting the facts to financial decision-makers, it's important that facility managers understand what they're competing against.
The three biggest expenses for higher education institutions are financial aid, faculty compensation and facilities. Financial aid and faculty
salaries take the lion's share of the campus budget. These are necessary expenditures for attracting quality faculty and students. Although facilities are equally critical, this department rarely gets the attention — or funding — the other departments enjoy. Maintenance needs, seen as behind the scenes, seem the simplest to push off.
Unfortunately, the lack of funding for facilities makes it challenging for facilities managers to make necessary upgrades and perform the routine preventive maintenance that keeps these buildings attractive places to live, learn and work. Maintenance delays only worsen the issues that come from aging infrastructure.
More challenging yet, enrollment trends are increasing the competition for funding on campuses. In areas where college and university enrollments are seeing declining or stagnant numbers of high school graduates, many institutions are dealing with unexpected amounts of unused space. And in states like Texas and Utah, where enrollments are facing unprecedented increases, capital is being spent on new solutions to relieve overcrowding.
Costs Become Higher Costs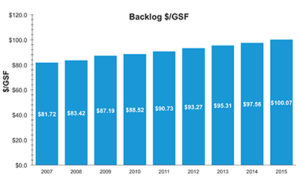 Virtually every campus across North America has a backlog of deferred maintenance. However, maintenance can't be deferred forever. When critical systems from roofing to HVAC to electrical are not upgraded or even serviced on a regular basis, institutions are increasing the chance that today's problems will grow worse tomorrow.
The bigger problem caused by a growing maintenance backlog is that deferred costs ultimately lead to higher costs. This is because when facilities systems receive less preventive maintenance than advised by the manufacturer, these systems will break down well before their projected replacement date. Frequent emergency repairs and more rapid replacements are far more costly than planned maintenance when viewed in the long term.
Communicate the Problem
Facilities managers seem to face an ever-increasing number of challenges when it comes to the problem of deferred maintenance. The best solution for these challenges is clear communication of the problem.
Strong data demonstrating campus performance, including in comparison to other campuses, can be an invaluable tool in prioritizing the areas most in need of improvements. These metrics also can be useful in communicating the need for facilities funding. It's up to facilities managers to present their challenges and clearly communicate a path forward to board members, trustees and other key decision makers.
Address Deferred Maintenance
It's understandable that many campuses have had to push back maintenance on their buildings and systems. Unfortunately, the annual maintenance backlog will only continue to grow, even if the available capital does not. At some point, these problems will need to be solved. With a clear understanding of their department's needs and a clearly stated plan forward, facilities managers will find they can contribute to campus savings.
Jay Pearlman is associate vice president, marketing, at Sightlines. He has been with the company since its inception in 2000 and has played a variety of roles, including those in operations, business development, quality control and product development.