SUNY Stony Brook Begins Student Services Facility Project
STONY BROOK, N.Y. — Work began in February to expand and improve the State University of New York (SUNY) at Stony Brook Student Services Building. The major renovation and addition to the 1960s-era structure is estimated for completion in June 2019, with a total cost of $63 million.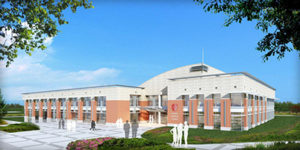 The new Stony Brook Student Services Building will house the Bursar's Office, Office of Student Financial Aid, Office of the Registrar, and Admissions and Counseling Services as well as multipurpose rooms, classrooms, a large lecture hall and auditorium space and a street-front Student Café, according to a statement by the project's New York-based builder EW Howell Construction Group. It will also be home to the campus' student life activities, housing student clubs, student media and campus ministry service centers according the Spector Group website. The New York-based firm is serving as the project architect.
EW Howell will demolish 168,886 square feet of the existing Student Union, complete interior work and rehab the building envelope. The project also includes a complete structural modification to include new elevators and new mechanical, electrical, plumbing and fire protection systems. The project is set to achieve LEED Silver certification.
New York-based structural engineering firm Ysrael A. Seinuk was also a partner on the project, which includes replacement of the existing building façade and staircases, an addition of fills to bring the floor areas to the required elevation, and the addition of skylights and floor openings, according to the firm's website. The perimeter of the building will be excavated to allow for natural light to penetrate the current basement level as well.
Jack Hagen, vice president of the EW Howell Education Division, noted in a statement that higher education institutions in particular are investing in facility upgrades and additions to keep up with the changing requirements of students and faculty. "We're seeing the need for more collaborative spaces, technology upgrades, and special attention to sustainable operations," he said.