Idyllwild Arts Academy Hall Built to the Tune of Just $4.3 Million
By Lindsey Coulter
Idyllwild Arts Academy, a boarding school in Idyllwild, Calif., is renowned for its high level of arts education, and is particularly well known for its music and orchestra programs. With top-notch instruction and dedicated students, just one thing held the music program back: The academy's aging and undersized performance hall.
The stage in the academy's decades-old performance hall could barely contain the school's full orchestra, and poor acoustics all but swallowed lower-register instruments. Academy leaders originally set out to correct this problem with a full-fledged performing arts center, but lack of immediate funding forced the academy to spread its vision over a series of construction phases. The first phase comprised a beautiful, world-class musical performance space built for just $4.3 million.
Academy leaders selected Sander Architects LLC of Marina Del Ray, Calif., to design the more compact, 8,000-square-foot William M. Lowman Concert Hall, which offers sharp aesthetics and world-class acoustical quality. Whitney Sander, the firm's principal, noted that the design team was able to go above and beyond design expectations, while still keeping the project on time and on budget.
"It's a high-design building, and it's more than they expected for a budget of this size," Sander said.
Where the previous performance hall spaces were cramped, undersized and offered little storage, the new hall — which debuted in September 2016 — offers plenty of room for students, guests and a collection of large percussion instruments. Visitors first encounter a newly designed outdoor quad before entering the sleek lobby, which features high ceilings and an array of modern white globe lights. This contemporary design continues into the large performance space known as "The Hall of Trees."
The hall's moniker is certainly fitting. The space features hundreds of sections of 4-inch by 8-inch fir ribs that arch up its sides and across the ceiling. Rather than standing at perfect 90-degree angles, the fir ribs are slightly tilted, leaning both toward and away from each other to mirror the forest of actual fir trees surrounding the academy's campus. This design also helps scatter the sound to create cleaner acoustics.
With this goal in mind, Sander and Associate Adam Licht worked with Nick Antonio, an acoustician with the Los Angeles office of global engineering firm ARUP, who has completed similar hall projects all over the world.
"The size and shape of the hall is based on his principles of acoustics," Sander added.
Antonio helped determine the optimal size and shape of the hall to deliver the best possible sound quality. His acoustic design required reflective surfaces on the walls up to six feet that promoted early sound reflection. Diffusive elements were integrated toward the ceiling to make the sounds mellower as they fade.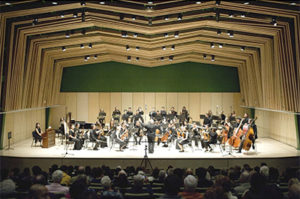 On the exterior, the new facility is equally impressive. Designed to mimic the area's natural granite outcroppings, spires and ridges, the Sander Architects team delivered a building with an intentionally geologic feel. The hall's exterior is sheathed in steel sheet panels that have been folded into repeating shapes. The repeating shape pattern is a quiet nod to the melody line of a piece of music by Composer Richard James.
Further honoring its beautiful natural environment, the building also features an array of green and sustainable elements. Using the hybrid construction technique in particular helped ensure that no metal (that used is composed of 80 percent recycled material) was wasted during the project's construction.
Hybrid construction, a term and technique both developed by Sander Architects, was also largely responsible for keeping costs low and design quality high. The part prefab, all custom design and construction method relies on pre-engineered metal buildings crafted by Lathrop, Calif.-headquartered CBC Steel Buildings to form the hall's shell, according to Sander. Both major and minor structural elements are custom-fabricated and delivered to the jobsite ready to be bolted together.
"They're very inexpensive and an efficient way to build," Sander said. "Normally the steel for a project like this would probably cost $1 million or more. The steel for this came to the site ready to be bolted together for $380,000."
Although the 298-seat facility has been in operation for less than a year, it has already had a significant impact on the campus. The motivated and highly skilled students are grateful to have a space that showcases their talent, and audiences are treated to a much fuller orchestral experience.