On Location: Green California Summit Emphasizes Recycling, Energy Reduction
By Torrey Sims
SACRAMENTO, Calif. — The sentiment at the Green California Summit last week in Sacramento was one of hope and determination. With a current administration that's de-emphasizing climate change and rolling back sustainability initiatives, state officials in California are taking an opposite approach.
"We need to make America green again," said Senator Fran Pavley, the summit's keynote speaker.
Last November, about 53 percent of California voters approved the $9 billion Prop 51 bond measure. The measure allowed the state to match local K-12 and community college funding to build new facilities and renovate existing structures — as well as address the $2 billion backlog in state-money requests and an expected $20 billion needed for schools in the next decade. California has required all new and renovated state buildings meet the Silver LEED standard for more than a decade, and it is the first in the U.S. to create a statewide green building code — both of which mean a wide variety of green schools are on the horizon.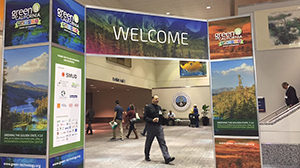 With a massive amount of green school construction in store for the state, the summit also focused on greening schools by creating more efficient plans for school operations. Not only did exhibitors emphasize new green products — LED lighting, water-saving devices and energy-efficient windows, to name a few — educational programming was mostly devoted to lectures on recycling, energy reduction and school gardens.
Aimee Lee, national account director for Recycle Across America, gave several impactful talks throughout the summit. Taking it back to the basics, Recycle Across America is trying to implement a national standard for recycling by making labeling on recycling bins more consistent. Without consistency, non-recyclable materials show up at recycling plants and contaminate the rest of the recyclable materials so much so that 450 recycling facilities closed in California alone in the past six months. The organization's mission is to make a quick change in how Americans recycle to help reverse the predictions that global waste will double by 2025.
On a more positive note, Wendell Brase, associate chancellor for sustainability at the University of California, Irvine (UC Irvine), spoke about how the university has spent the past 20 or so years completely re-evaluating its operations to make them more energy efficient. This has yielded a savings of 50 percent or more, with as much as 60 percent savings in laboratory buildings (some of the biggest energy sources). On track to see a 60 percent energy savings rate by 2018, Brase continues to challenge energy management initiatives at the university.
Taking a more hands-on approach with students, representatives from Bishop O'Dowd High School in Oakland spoke about developing successful secondary school gardens through the Living Laboratory model. By creating a Living Lab, school administrators can provide an academic, physical and spiritual setting for applied and experiential learning. Engaging students in farming and gardening can serve as a catalyst for other sustainability initiatives across the school curriculum and the community.
Stay tuned as School Construction News covers more specific discussions had at the Green California Summit in print and online.