Report by American Society of Civil Engineers Shows Poor School Infrastructure Nationwide
RESTON, Va. — From presidencies to colleges, American institutions seem to work in four-year cycles. Ditto the Reston-headquartered American Society of Civil Engineers (ASCE), which issues a quadrennial "report card" assessing the state of the nation's infrastructure. Like the letter grades given to students, the society uses an A to F system to assess the physical condition and needed investments for infrastructure improvements. Sharing a D+ alongside public parks and hazardous waste management are nearly 100,000 American K-12 public school buildings, according to the report card released in March.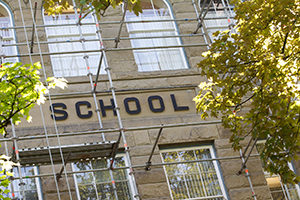 The ASCE used data from a variety of sources, including the U.S. Department of Education and National Center on Education Statistics, and found that 24 percent of public school buildings were rated as being in fair or poor condition.
"In many cases, planning is lacking, as four in 10 public schools currently do not have a long-term educational facilities plan in place to address operations and maintenance," according to ASCE's report. "The main reason for repair, renovation or modernization work on school facilities relates to improving energy efficiency as well as technology infrastructure."
Underinvestment in school facilities due to fiscal woes has resulted in a $38 billion estimated annual budget gap for repairs and modernizations. Altogether, more than half of public schools need such investments to be considered in "good" condition, according to the report. States are not graded individually within the 2017 Infrastructure Report Card.
"Public schools serve as critical learning environments for the next generation, yet the facilities received a poor 'D+' grade in the Report Card. This is concerning because recent studies indicate that public schools' conditions may affect student performance," said Greg DiLoreto, past president of ASCE and chair of the Committee on America's Infrastructure. "In contrast, quality facilities can help improve student achievement, reduce truancy and raise staff morale and retention. If we want the next generation to receive a quality education, school facilities that provide healthy, safe and modern learning environments are a part of it."
Founded in 1852, ASCE is the nation's oldest engineering society, representing more than 150,000 members of the civil engineering profession. The ASCE Committee on America's Infrastructure, which authored the Infrastructure Report Card, is comprised of 28 civil engineers from around the country, representing decades of collective experience.
More than 10 years ago, when School Construction News last reported on the Infrastructure Report Card, ASCE similarly graded the infrastructure of public schools a mere D.