Grand Opening of STEM Facility at Hudson County Community College
By Rachel Leber
JERSEY CITY, N.J — The new Science, Technology, Engineering and Math (STEM) facility for the Hudson County Community College in Jersey City will have a grand opening ceremony on Sept. 19. The new facility will feature 10 science labs, including microbiology, genetics and engineering, as well as general classrooms, computer labs, a stepped lecture hall, multi-purpose room, lobby and outdoor patio space.
The six-story 74,000-square-foot STEM facility had an overall project budget of $25 million. RSC Architects in Hackensack, N.J., was the lead architect on the project, with Brockwell & Carrington in Towaco, N.J., as the general contractor. A&J Consulting Engineers in Clifton, N.J., handled MEP, and Remington-Vernick Engineers in Haddonfield, N.J., handled site and structural elements of the project. Work on the project began in fall 2015.
In addition to creating a state-of-the-art STEM facility, the goal of the project was to consolidate and centralize the college's STEM programs into one stand-alone location, while connecting to the adjacent science building. Additionally, the college wanted to foster collaboration among the disciplines and to provide more classroom space for the growing educational programs to attract students with a strong interest in STEM education, according to Ken Mihalik, project manager at RSC.
"The building is a nice addition to the Journal Square neighborhood as it provides an attractive and contemporary appearance signifying that something special is happening inside," said Mihalik. "At the same time, through the use of masonry and brick-colored panels, the building seems to easily work with the existing context of the area."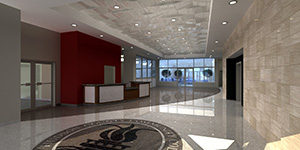 Fully accessible by public transportation, the building will serve as a beacon to welcome students entering the facility. The new facility has a light-filled lobby that also serves as a cyber cafe, with an adjacent outdoor courtyard, intended to foster collaboration amongst students. The main level has a multipurpose room used for hosting lectures and science demonstrations. Enclosed in a glass storefront system, students can view the new state-of-the-art laboratories from the central common areas. The labs will be equipped with audiovisual and information technology (AV/IT) tools, and are intended to allow for simultaneous activities and group collaboration.
The building has been designed as a LEED-certified building, which includes a mechanical system that allows for more individualized zone controls. Recycled materials were used in the construction of the new facility. Installation of ultra low-flow plumbing fixtures will save the facility on water use, and the use of daylighting will reduce energy use for lighting. Additionally, room occupancy sensors have been installed to reduce use of lighting when the building is unoccupied or for spaces that are not currently in use.
The biggest challenge of the project was to fit the building onto a very tight urban site, according to Mihalik. "This was accomplished through a delicate balance of maximizing floor plate, while at the same time providing adequate building setbacks to allow for windows and some limited outdoor space," said Mihalik. "We also accomplished this through a very efficient floor plan, which minimized circulation space."