Designing Ed Spaces for Young Entrepreneurs
By Andy Miller & Carla Remenschneider
The hottest coffee shop in the city of Carmel, Ind., a suburban community just north of Indianapolis, isn't located on Main Street or in a strip mall. It's the Carmel Café & Market, a student-run coffee shop that is part of the DECA business program at Carmel High School. The renovation of the Carmel Café & Market, which was once a small spirit shop, is an excellent example of how to design for the needs of young entrepreneurs.
Treat Students as Owners
Student involvement in design is always important, but for entrepreneurial spaces, it is absolutely critical. Operational issues have a great impact on the design of a business space, and young entrepreneurs must learn to think through the impact of the built environment on efficiency and profit. At the Carmel Café & Market, the owners are the students, not the teachers, so their input was critical to the design process.
"This is not class where teachers run the business and students get credit for participating," said Richard Reid, DECA advisor and IB Business Management teacher at Carmel High School. "This is truly a student-run business, so we made sure to use the design process as a learning opportunity."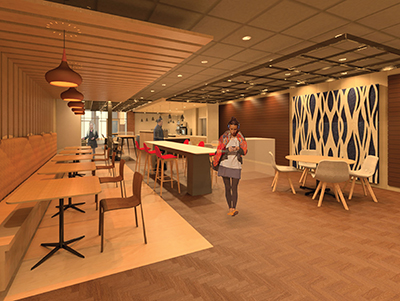 The design of the Carmel Café & Market renovations, completed in September 2017, involved multiple charrettes with students and their faculty advisors. Early sessions focused on operational issues and how the space would work. How will orders flow in and out? Where will customers queue up? How many back-of-house coffee stations do we need? How will customers exit? Students explored these issues and collaborated with architects and interior designers to find solutions. In addition to floor plans and renderings, students developed and reviewed flow patterns to create the optimum space for operations. Every aspect of the business received scrutiny, all the way down to the design of the frappe-making station.
Grace Marchese, a student at Carmel High School and director of operations for the Carmel Café & Market, was one of the stakeholders involved in the design charrettes.
"I learned how much thought goes into designing a space for a business," Marchese said. "Every single detail matters, and it is these small details that build on one another to create the overall feel you want to have."
The design team also worked with students to create signature spaces that reflect the Carmel Café & Market brand. Students reviewed design concepts and commented on branding, look and feel, efficiency and product placement. Based on student input, the design team added items such as a performance stage for student singers and musicians.
The collaborative process involving students not only resulted in a better design, but it also gave these young entrepreneurs a valuable experience in creating space for their own business.
Be Nimble
While the Carmel Café & Market is currently a coffee shop, the students and design team specifically focused on creating a flexible business lab that could serve multiple needs. This flexibility is crucial to allow students to respond to different market forces and to change their business model over time.
"Students can rearrange the space to improve operations and the customer experience," said Reid. "And if they decide one day that their business model should change, the facility will accommodate a new kind of business."
Some restaurant-related equipment is included in the design; however, the Carmel Café & Market is broken down into core spaces focused on teaching broad entrepreneurial skills. Flexible furniture allows students to be creative in how they arrange and rearrange space. A nearby marketing lab provides a board room–type setting for leadership and critical thinking. Presentation space and interactive technology tools give students the ability to engage in problem solving, teamwork and communications.
To read the entire article, check out the November/December issue of School Construction News.
Andy Miller, AIA, is a project architect at Indianapolis-based Fanning Howey. Carla Remenschneider, RID, IIDA, is director of Interior Design at Fanning Howey.