Facility of the Month: UC Davis Rethinks Health Education
By Jessie Fetterling
University of California, Davis (UC Davis) Health will change the way nursing schools operate, with an innovative new education building for the Betty Irene Moore School of Nursing at UC Davis that begs students to ask questions, solve problems and simply practice what it's like to care for people.
Completed this past summer and officially opened in October, the 70,000-square-foot Betty Irene Moore Hall is the ideal home to what is essentially a new school for the university. A $100 million donation from the Gordon and Betty Moore Foundation, the nation's largest grant for nursing education, allowed the school to launch in 2009. And since launching, it has grown to include five different programs, with a student body of about 300 that will soon surpass 400 in the next few years. While borrowing space from the School of Medicine has served the nursing school well for the past decade, it was time for it to build its own space, according to Heather M. Young, founding dean of the nursing school.
San Francisco-based WRNS Studio teamed up with national construction firm McCarthy Building Companies Inc. under a design-build delivery methodology that helped the project stay on schedule and within its $38 million budget. Timothy Albiani, McCarthy's project director for the project, emphasized that the delivery method was also rewarding in that the design-build team saw the project through from early programming to the final outcome of the top-rate educational building.
The school had a very clear vision for the project from the start. Young said that there were nearly 100 people involved, including several subcommittees to discuss everything from technology needs to facility issues. Together, faculty and staff created an 800-page specification document that guided the project through design and resulted in less than 1 percent change orders throughout the construction process.
"This project is really cutting edge," Albiani added. "This whole building is about learning and the next wave of graduate students being educated to become better nurses and healthcare leaders. In fact, that's the school's entire purpose. Betty Irene Moore experienced treatment challenges during a hospital stay and made a personal commitment to expand nursing education to ensure nurses of the future had the most up-to-date training and skills. We really hit a home run, and we believe the School of Nursing got what they wanted to a tee. I think they asked for something they weren't sure could be delivered, and with this building, they are able to push the envelope on progressive education further than they thought."
In fact, Albiani thinks the school could change the approach to health education overall. "They're changing the way a professional degree should be taught," he said.
Nursing a New Education Approach
Veering away from the traditional lecture approach to education, the nursing school sought to engage students more actively from the get-go, and this new building only furthers that goal.
Specifically, the school wanted the capacity to do simulation, Young said. This ability to physically practice what it's like to care for people is brought to life by either high-fidelity mannequins or patients who are live actors hired by the school to act as if they have a certain health condition. Students can get firsthand practice on clinical skills and bedside manner in a variety of simulation environments. They include the inpatient eight-bed "hospital ward," task and anatomy skills labs, a 15-room primary care clinic and a one-bedroom apartment home health simulation suite that allows students to practice giving care in different residential spaces such as a bedroom, bathroom or kitchen. A lot of the practice is also recorded on video, so students can debrief and learn from what they see.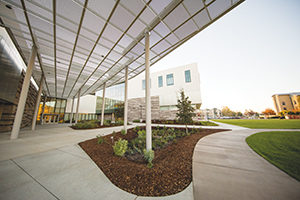 "It's very different than lecturing because students get to use classroom time to have in-depth case discussions or practice in simulation," Young emphasized. "The way [the building] is laid out is very different from a traditional education building."
"[The building] probably doesn't compare to many, if any, other nursing facilities," said Kevin Black, McCarthy's project manager for the project. "The larger classrooms are set up to be interactive with students engaging and interfacing with each other, while instructors move throughout the space; it doesn't have the traditional podium up front with auditorium-style seating."
Another thing that was really important to the university was that they wanted to use the circulation corridors efficiently. Edward Kim, WRNS project manager associate, emphasized the design team's focus on "the third place." Since students are no longer just commuting between the classroom and home, they need a "place" to study either individually or collaboratively with a group. Two of the main building program elements consist of active learning classrooms and skill or simulation labs. But equally as important to the university was the learning commons, the space between the classrooms and labs. The "learning commons" was programmed and designed to create a place where students can study and collaborate between classroom sessions.
"When talking about this 'third place,' we have conceptually identified it as 'The Guts' of the nursing school," Kim said. "On the first, second and third floors, interconnected learning commons are treated with a bamboo wood wall that curves and bends to create different size alcoves for studying or collaborating. The third-floor learning commons has a window looking directly into the simulation lab, so there are even options to learn as a spectator while other classes are in session."
The learning commons weaves throughout to continue both classroom and clinical learning. "Propeller tables" are strategically placed throughout these areas designed to encourage engaged learning and create an atmosphere where new ideas are discussed, debated and remembered.
"We wanted a place to invite people to connect, to spark the ability to have interesting conversations," Young said. "All of our common spaces — corridors and lobbies — we wanted to be learning commons. So, the building was designed with places to sit and plug in a laptop and connect. It invites that kind of engagement; for instance, the walls are writable. We wanted a building that encouraged collaboration because we value that."
To read the entire article, check out the January/February issue of School Construction News.