#GreenCA18: Green California Summit & Expo Concludes
By Daedalus Howell
SACRAMENTO, Calif. — The Green California Summit and Exposition, an annual green-themed event presented by non-profit initiative Green Technology, commenced in its titular state's capital on April 9. The event brought with it a bevy of speakers and vendors as well as a continuing commitment to the notion that green remains the new black — at least according to some ledgers.
This year's theme was aptly captured in the expo's four-word slogan — "Greening the Golden State" — and delivered with an emphasis on the gold to be found in them thar hills in a state that passed propositions that mandate clean energy initiatives in recent years.
California's Proposition 39 K-12 Program, otherwise known as the California Clean Energy Jobs Act, for example, received $1.748 billion of funding over five fiscal years, beginning with the fiscal year of 2013-2014 and ending this fiscal year 2017-2018. As of this last March, however, it's estimated that $114.5 million still remains unrequested from the program. Naturally, many suppliers of environmentally friendly products at the expo hoped to help state agencies receive allocated funds for implementation of their products.
The possibilities for moving forward with energy-efficient projects funded by Proposition 39 were explored in a discussion dubbed "Energy Update for California Schools," which featured a range of speakers, including Anna Ferrera, executive director of the School Energy Coalition; Rebecca Wetzstein of Ameresco, Inc., an independent provider of energy efficiency and renewable energy solutions for facilities; and Debra Godfrey and Jennifer Masterson of the the California Energy Commission.
Masterson was on hand to discuss California's School Bus Replacement Program, a result of  Senate Bill 110 (SB 110), which charges the California Energy Commission with retrofitting or replacing old diesel school buses with new, next-generation zero-emission vehicles.
A project that underscores the possibilities of the bill showcased at this year's expo was a Twin Rivers Unified School District bus fueled by 100 percent renewable energy and facilitated, in part, by Sacramento Municipal Utility District (SMUD). The bus was parked inside the main exhibit hall and made an impressive sight for at least one photo-op (to that end, social media mavens were encouraged to use the hashtag #GreenCA18.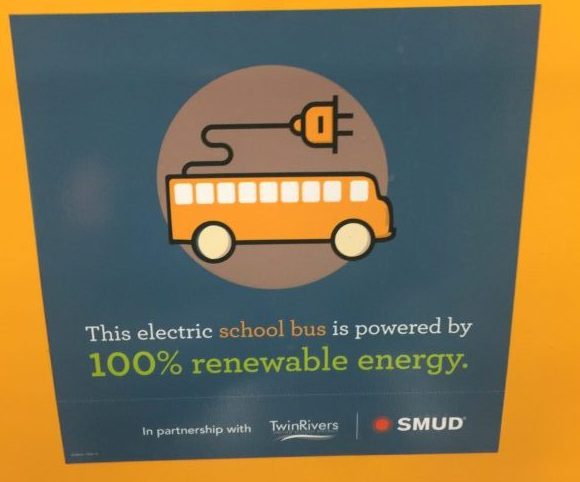 Also in the Green Schools column of presenters was a chat with the ungainly title "ZEV School Buses — They're Here and There is Funding For Purchasing." The virtues of ZEV buses, or Zero Emission Vehicle buses, were extolled by a variety of speakers, including Trey Jenkins, vice president of Alternative Fuels, Blue Bird Corporation.
"As far as school districts getting these busses, they can easily qualify for grants," said Jenkins.