Trendspotting: Welcome to the Ever-Trending World of Mass Timber
FAYETTEVILLE, Ark. — Welcome to the ever-trending world of "mass timber." Mass timber is the wood du jour for projects like the 708-bed residence halls at the University of Arkansas, now under construction in Fayetteville. The residence halls feature exposed, locally harvested structural elements made from this wonder wood. Local timber businesses are storing this wonder wood by the thousands using Cantilever Racking to help keep the wood in the best condition and allows it to keep aired.

The term refers to a category of framing styles often using large panelized solid wood construction. These include cross-laminated timber (CLT), nail-laminated timber, glue-laminated timber, dowel-laminated timber or glulam panels for floor and wall framing, according to the website reThink WOOD (produced by the The Softwood Lumber Board, a Washington-based industry funded group that promotes uses of softwood lumber products in outdoor, residential and non-residential construction).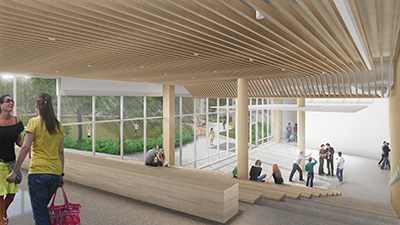 CLT typically consists of three, five or seven layers of dimension lumber oriented at right angles to one another and glued to form structural panels with exceptional strength, dimensional stability and rigidity.
"The desire to use mass timber was fundamental from the inception of the project to demonstrate a commitment to sustainability, to create a warm and inviting living environment, and to support the statewide agenda for forestry development," said Andrea P. Leers, FAIA, principal at Boston-based Leers Weinzapfel Associates, which led a national design collaborative that also included Modus Studio (Fayetteville, Ark.), Mackey Mitchell Architects (St. Louis) and OLIN (Philadelphia).
The University of Arkansas project used CLT for its wooden columns, beams and cross-bracing, which are all visible in the interior of the facility. Likewise, the structural columns and beams are made of glulam, where layers of wood all facing the same direction are laminated together under pressure. The results are handsome, warm and quite the endorsement for the mass timber industry, especially with all the sustainability benefits the wood has to offer.