Cal U's Student Center to See New Life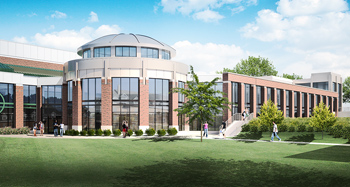 CALIFORNIA, Penn. — About 20 years after Pittsburgh-based WTW Architects first designed the California University of Pennsylvania's (Cal U) Natali Student Center, the architecture firm plans on expanding and renovating the initial structure to bring it up to 21st century standards.
"Cal U has made dramatic strides over the past two decades, and our student center should reflect these positive changes," said Dr. Nancy Pinardi, interim vice president for Student Affairs, in a statement. "At the same time, we must meet student needs in a fiscally responsible manner. We appreciate WTW's creative approach to renovating rather than replacing the building, and we look forward to a 21st century living and learning center that will remain the hub of campus life."
Paul Knell, senior principal for WTW Architects, added, "We designed this center 20 years ago, and it has mushroomed and been very successful over the years, but it is busting at the seams and outgrowing itself, as the school continues to increase enrollment."
The architecture firm is designing a 40,000-square-foot addition and renovating another 60,000 square feet of the current four-level facility.
One of the major goals of the project is to create a central public space for the campus. There are currently two main lobbies located on each end of the building; however, WTW will be designing a rotunda that stretches 50 to 60 feet in diameter that will serve as the central gathering place. Other updates will include new technologies and Wi-Fi, including collaborative tech stations, (or "collaboration pods"), in which small groups of students can work together on projects.
The other goal is to build a main dining center that will accommodate the school's new food service program and create a better dining environment, with more natural light and views of the green spaces in front.
"Food service is one of the fastest changing elements in student centers. We have designed about 100 student centers across the country, and every one is different. Food service is always changing and evolving to stay in tune with new menu concepts," Knell said. "After 20 years, this building is three or four times behind the times, and we need to update these concepts at regular intervals."
Knell said that one of the trends that will be incorporated into the new design is electronic ordering, in which students can order from a touch screen and pick it up five minutes later. Another concept that WTW is seeing in college dining is sustainable dining. "The kitchen is one of the biggest energy hogs in any student center," Knell said. "When you have a sustainable dining program, you're trying to improve efficiency and buy local produce."
Although several design aspects of the student center will change, two very recognizable parts of the center will remain in tact: the two bronze medallions (about 4 feet in diameter) that are currently found in both lobbies at opposite ends of the building. One of the medallions will remain at one of the lobby entrances, while the other will be incorporated into the new design somehow.
So far, Knell said that the biggest challenge has been relocating the utility lines located just outside the building because they date back to the 1960s. A large part of the expansion will be where many of these lines were, so "the biggest challenge was doing that while keeping the building in operation."
Construction of the $30 million project should begin in May and is scheduled for completion in July 2015.