Building a STREAM Facility: It's All About Communication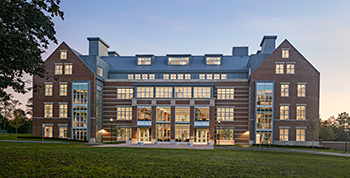 When computers first started appearing in classrooms across America, the "technology integration" problem was relatively simple: where do we plug them all in? Before this time, classrooms needed very few outlets. The solution, as some of us remember, was a mass of black extension cords snaking down from missing ceiling tiles in the computer room.
Today we may be a little savvier, but to build a school facility that can meet these ever-changing trends while facilitating collaboration and human interaction is a complex undertaking. Take for example St. John's Prep, a Xaverian Brothers-sponsored 6-12 boys' school, in Danvers, Mass. Windover Construction of Beverly, Mass. partnered with Boston-based Flansburgh Architects to build a new high school academic building and performed an extensive renovation of the middle school. The new and improved facilities are fulfilling the school's vision of cross-curricular collaboration, also known as the STREAM (science, technology, religious studies, engineering, arts and humanities, mathematics) approach.
Although STREAM (along with the related STEAM and STEM) doesn't by default mean high-tech, the teaching method often takes full advantage of new technology. The challenge in preparing for the project was integrating these innovative tools in a way that worked for both students and teachers. The answer was to take a bottom-up approach, creating a design that was flexible enough to ensure that the digital tools work with the learning environment without getting in the way. Perhaps most importantly, this required talking with students and teachers to ensure the space would meet their needs — today and tomorrow.
Device Strategies
Mobile devices rule. Almost every student today has a phone, tablet and/or laptop, and is comfortable learning with technology — in fact, they prefer it. Teachers are integrating these innovative tools, along with smartboards, TV screens and other technology, into the teaching process.
The new St. John's Prep high school academic building features thirty classrooms, science laboratories, a robotics laboratory, Makerspace, and computer laboratories along with collaborative work and study areas. The middle school was also upgraded with new entry lobby, dining hall, digital commons, video classroom, team collaborative spaces, and art and music classrooms as well as refreshed science labs and offices. The project team took special care to ensure that everything interacted as it should, and "future-proofed" the design as much as possible so the school could integrate new technology down the road.
New School, Old School
Technology is nothing more than a tool, and old technology is still just as good in some cases, if not better. For example, the key elements of the STREAM method (collaboration, community, and experiential learning) are often best conveyed in the physical space. All interior and common areas in the new academic building are surrounded by glass with wide open spaces and study rooms. The high-tech campus feel is reminiscent of that found at Google or Apple, yet is guided by the very human need to be together. Essentially, it's a space where students and faculty feel as much at home firing off a text as they do sitting together for a face-to-face chat.
Engaged Students
Involving students in the process helped guide some technology integration decisions. But the build was also a great opportunity to allow students to become a part of the construction process, applying lessons taught in the classroom to the construction happening just down the hall. Under the guidance of their teachers, students were encouraged to glean real-life examples of physics, earth science, geometry, algebra, religion and art from the jobsite. Members of the Windover team stepped into the classroom to lead discussions on teamwork, collaboration and the construction process, and to facilitate lesson plans on 3D modeling. The students used that knowledge in their own design and construction project — a memorial sanctuary built behind the new academic building.
Use Defines Design
It's easy to get overwhelmed when integrating all the technology requirements of today into construction, never mind trying to guess what they might be tomorrow. The Windover team decided to put that aside and focus more on how people would communicate with each other within these spaces, and build from there. We want to enhance those interactions, whether it's high-tech cyber-learning tools or traditional, face-to-face group spaces.
The result is extremely satisfying. St. John's is now the epitome of high-tech education integrated in a space designed for good old-fashioned academic — and social — interaction.
Stuart Meurer is vice president of Windover Construction of Beverly, Mass.