Old Meets New at High School Renovation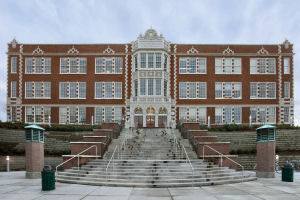 Ted Howard remembers the good old days and the not so good old days at Seattle's Garfield High School.
Since opening its doors in 1923, it has always been an ethnic melting pot unlike any other in the city — a place where students learned to accept and respect individual differences. At the height of the civil rights movement, it was the only Seattle venue where Martin Luther King, Jr. chose to speak.
While it had an illustrious history, boasting graduates such as musical legends Quincy Jones and Jimi Hendrix, the school's luster faded prior to a nearly $88 million renovation that was completed in September.
As a Garfield student, Howard remembers the countless times he was forced to run downstairs, race across the hall and then climb back upstairs to access his third-floor annex classes because the annex and main building weren't connected.
He recalls the occasions when he and other students and teachers felt earthquake-like vibrations in the library that was erected in the '70s above the old auditorium. As a student-athlete, Howard is reminded of the days he weight-trained in one of the multiple portables that obscured his alma mater's grand brick and terra cotta entryway.
Unattractive as they were, those portables provided much needed space that simply wasn't available within the 85-year-old landmark facility.
"There was a time when I thought this building needed to be torn down," says Howard, who now serves as Garfield's principal. "Art classes were held in an old girls' locker room because there wasn't enough space for an actual classroom. Science rooms, filled by some of Seattle's finest students, weren't designed to accommodate current technology or teaching methods."
The building still housed manually operated dumbwaiters as the primary vehicle for transporting materials from the first floor. Both the gym and library were inadequate, there was no football field and the list of other challenges — extending to the structure itself — was lengthy.
While Howard wasn't alone in his belief that Garfield was beyond repair, a broad group of stakeholders consisting of parents, teachers, community members, students and administrators, thought otherwise.
"We went through an exhaustive process of visioning, planning and brainstorming," says Don Gillmore, Seattle Public Schools building construction manager.
It was clear that stakeholders wanted to preserve the Jacobean-style structure designed by renowned architect Floyd Naramore, he says.
The question was how to take an educationally obsolete school and transform it into a 21st century learning environment. It was critical to define what had to be restored and what had to be pulled out and reconfigured. It was equally critical to contain skyrocketing construction costs.
"Escalation was 12 percent to 15 percent a year," Gillmore says. "When this project was being bid, we were also competing for labor and materials with the Winter Olympics in Vancouver and the Summer Olympics in Beijing."
Rather than shortchange the project through excessive value engineering, Gillmore, in a tandem decision with program management firm Heery International, recommended the delay of two other bond construction projects into the next bond program, freeing the funds to complete the project as initially envisioned.
"One of our first challenges was really showing off the school in its original architectural splendor," says Steve Moore, Heery project manager. "Buses and students had long ago stopped using the main entrance which sat atop a huge hill and was surrounded in front by a group of portables."
While the construction team retained the building's original concrete, delivered during its initial construction by horse and buggy, the majority of the school's interior was gutted.
"Our goal was to restore a grand sense of entry and place," says Tom Bates, principal architect BLRB Architects. "Rather than renovate the gym, which was far too small and badly sited, we decided to design and build a new gym and performing arts center and leverage the site to create a community entrance plaza."
With significant foundation and restoration work yet to be done, Heery struggled to find a subcontractor interested in the project.
"No one wanted to handle the concrete work in the main building," Moore says. "The challenge was that there were so many unforseens in the old building. There were, for example, columns that were defined in the original drawings that didn't physically exist.
Additionally, there was limited access in the maintenance tunnels. Ultimately, we broke the packages apart and created a time and materials package."
Also remaining were half the school's single pane windows.
"The windows in the west and north sides had been replaced in the '80s and weren't in good shape," Moore says. "To retain Garfield's historic sensibility, wereplaced those windows with replicas made specifically for this project. Because the original windows were made of single-pane glass, however, we had to adjust the mechanical system to adapt to the heat gain and loss."
The most significant replica commissioned during the renovation was the proscenium that framed the auditorium's stage. Designers converted the auditorium into a cafeteria/commons area.
The most significant replica the team commissioned is the proscenium that once framed the auditorium's stage. The ornate handcrafted structure had been removed in the '70s when the multi-story space was divided to accommodate the library.
"Garfield had been lacking a social heart," Bates says. "There was no place for the students to hang out. We decided to demolish the library, restore the old volume and convert the auditorium into a cafeteria/commons."
The space also houses the school store, foundation and PTSA offices, and the culinary arts department that provides event catering.
"The new three-story space, which now includes a skylight to bring in ample daylight, has not only become a student gathering place, but a community gathering place as well," Bates says.
The commons now links directly to the library and classroom wings.
"The library, once the boys and girls gym, now receives ample light from original skylights," Moore says. "The old library used to be very dark."
The team retained and restored the gym's original wood floor.
"While most of the contemporary wood-veneered space is lined with carpet, we kept it off the room's perimeter so students could see the wood," Moore says.
Another repurposed feature is the hand-carved computer room entryway, which once served as the original library's main entryway.
"This was an incredibly complex project," Gillmore says. "Most people have no clue how much is buried above ceilings and walls for earthquake resistance."
Moore is certain people also don't know how difficult mechanical, electrical and data line coordination were.
"The tough part in dealing with buildings like this is arm wrestling for space and determining where new systems will function best for easy maintenance," he says.
Garfield is also a data hub for all local schools. Data comes here via a main fiber drop, which had to remain functional through the entire project. We placed the equipment in a trailer on the site."
A recurrent opinion among teachers, who now have offices to call their own, and whose classrooms are wired for technology and are flexible to accommodate future changes, is that the facility far surpasses their expectations.
Alumnus Quincy Jones believes the new performing arts center, named after him, is a superb venue that will inspire a new generation of talented performers.
"This facility is unbelievable," Jones said during a press conference to celebrate the performance center's grand opening. "What they've done to renovate it is amazing. I get chills being here."
There is no mistaking the historic and the contemporary facility.
"We were mandated to differentiate the historic facility from the contemporary facility," Bates says. "Our design, which is sited 20 feet below the main entrance, provides a more modern, curvilinear aesthetic that's respectful and subservient to the original rectilinear building."
Gillmore appreciates Jones' praise.
"This facility is so much bigger than the old auditorium and has significantly better acoustics by design," Gillmore says. "It has an orchestra pit with a removable cover that creates a stage extension when it's not in use. It affords easy access to the catwalks and lights, and slopes in a manner that brings the audience closer to the stage."
The facility also includes a green room, dressing room and a scenery shop, more curtains and additional side stage space; all features that didn't previously exist.
More than just a performing arts center, the new building also includes a main gym which has two full-size basketball courts and a full-size center basketball court that seats 1,800 people.
It also houses an auxiliary gym that serves gymnastics and wrestling programs.
When all is said and done, Garfield's size remains 243,000 square feet.
"We've just made better use of the space to provide Garfield students with a facility that will serve them and the surrounding community for decades to come," Moore says.
Seattle's Garfield High School formerly served Jimi Hendrix and the new performing arts center's namesake, Quincy Jones.
PROJECT DATA
Project Name: Garfield High School
Location: Seattle
Cost: Approximately $88 million
Completion date: September 2008
Architect: BLRB Architects
Program Management:
Heery International
Want to see more photos of this project?
View our digital edition.