CEFPI, AIA Chapter Recognize Oregon Projects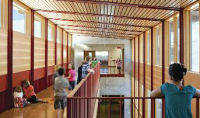 The Rosa Parks school in Portland, Ore., and two schools in Springfield recently received awards.
WASHINGTON — A campus designed to improve a low-income area in Portland, Ore., was the recipient of one of the top honors awarded by the Council of Educational Facility Planners International.
The 2009 James D. MacConnell Award was presented to the Rosa ParksSchool and the Community Campus at New Columbia during the CEFPI World Conference and Expo.
The award is presented each year to a project that demonstrates a comprehensive planning process, development of a wide range of educational specifications and a design that meets the requirements of the educational program, according to the CEFPI.
The Rosa Parks School and the Community Campus of New Columbia was created after officials decided to rebuild the dilapidated Columbia Villa housing project as a mixed-use, mixed income neighborhood.
The resulting community, now called New Columbia, is anchored by the Community Campus — the site of the K-6th grade Rosa Parks school — and a Boys & Girls Club and a community center.
The LEED-Gold certified campus is one of only two new schools built by the Portland Public school system in 30 years, according to reports. The school was built on 1.8 acres and about 90 percent of students walk or bike to school. Photovoltaic electrical panels, displacement ventilation, storm-water management and natural light were applied to achieve LEED Gold certification. "Rosa Parks School and Community Campus is to be congratulated for its intensive collaboration and community planning that resulted in an exemplary model for building future community partnerships, outstanding learning environments and strong neighborhoods in Portland Public School district," says Judy Hoskens, CEFPI president. "It truly is a sustainable learning laboratory, including photovoltaics, 100 percent storm-water retention and a community garden."
In other news, two Springfield, Ore., schools designed by Northwest-based architectural firmMahlum, in association with Robertson Sherwood Architects of Eugene, Ore., were honored by the Southwestern and Southern Oregon chapters of the American Institute of Architects.
The AIA chapter recognized the design of Thurston Elementary and Maple Elementary schools with the 2009 AIA Certificate of Honor award for elegant refined wood detailing in public spaces and large-scale exposed tilt-up concrete panels in classroom wings.
The campuses also integrate sustainable design features, including wood-framed glass walls that allow for daylight and views of nature. Both schools were designed to meet the equivalent of LEED Silver certification with passive solar heat, displacement ventilation, bioswales and landscaping
to control storm water runoff.
The schools were built for Springfield Public Schools and were funded by a November 2006 bond measure.
Construction of both projects started in May 2008 and was completed in September 2009.