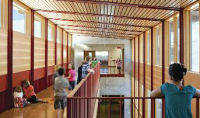 The Rosa Parks school in Portland, Ore., and two schools in Springfield recently received awards.
WASHINGTON — A campus designed to improve a low-income area in Portland, Ore., was the recipient of one of the top honors awarded by
Read more
Building information modeling, a technology that allows architects, engineers and contractors to create integrated, three-dimensional digital design documents, is at once a catalyst for tremendous change within the design/construction community and a source of confusion among design professionals and project owners.

Read more
DeJong
Conditions in world financial markets have improved and activity in the U.S. housing sector has increased, but the economy is still not good for school districts.
Read more
BIM Modeling Enables Facility Owners to Evaluate Costs Alongside the Construction Team
Like virtually any construction project, student housing requires close and effective collaboration between the owner's team and the design team at all of the key stages: design, estimating, value engineering, construction, commissioning, maintenance and facility management.
Read more
Every year the Modular Building Institute sponsors an awards program that recognizes the best projects in commercial modular building design and construction.
The ceremony to present the awards was held earlier this year during MBI's annual convention and tradeshow in Las Vegas. Each entry was reviewed by a panel of industry and non-industry construction and code experts, architects and engineers, and marketing professionals.
A full list of awards and case studies are available at: www.modular.org/awards
Read more