Central Force: Educational Facilities and Mixed-Use Developments
The campus for Eden Autism Services in Princeton, N.J., is a close-knit community with a special needs school, an early intervention center and group homes. Just beyond the buildings, however, the safe atmosphere abruptly ends and is replaced by roaring traffic on U.S. Route 1, one of the busiest highways in central New Jersey.
Beyond their small campus, students have little opportunity for interactions, says Thomas McCool, president and CEO of Eden.
"There's so much traffic, It puts restrictions on having the students outside, taking walks and going places," McCool says.
That will change in 2011 when Eden moves to a new site in Princeton Forrestal Village, a growing mixed-use development with shops, restaurants, offices and housing. The school will remain within commuting distance for students, families and teachers, but more importantly: "Students can become fully integrated in a city-like setting with streets they can walk on and interact with others," McCool says.
Changing Demographics
Just as classroom design has evolved from the one-room schoolhouse, the location of our schools is changing as we understand more about the learning and teaching process. In "Educating by Design," authors Charles Strange and James Banning write that a good design fosters a sense of security and belonging, encourages student involvement and strengthens the community. When students feel safe and secure, it is easier for them to learn and think.
As recent as 2003, nearly 99 percent of students attended public school. Public schools are generally located in residential neighborhoods or city outskirts because they are built on public property. In some communities, the relative isolation has its advantages. Parents can park along residential streets to drop off or pick up their children and students can walk home in low-traffic areas.
But, family structures have changed. In 1970, 38 percent of children had working mothers and 12 percent lived in single-parent homes. In 2008, 71 percent of mothers worked, 26 percent of children lived in single-parent homes and 62 percent of married-parent families with children had two working parents.
The type of schools students attend is also changing. Almost 1.2 million students (2.3 percent) attended charter schools in the 2006-07 school year. Charter schools can flex their muscles on land and real estate acquisition because they are privately owned and developed. Consequently, school officials, architects, planners and developers are looking at ways to integrate schools in communities.
Until recently, education was not an immediate consideration for inclusion in mixed-use developments, says Ron Beit, president of RBH Group.
"Traditionally, education was an afterthought, something that was dealt with once populations were in place," Beit says. "Today, it is at the forefront of almost every political discussion as communities are in dire need of new facilities."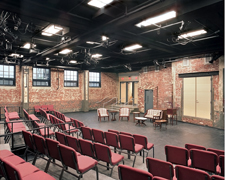 In a world where everyone is connected, the addition of schools to community and urban centers can be a win-win situation for all parties. Students benefit from new relationships formed with community neighbors — the shop owner who opens at dawn or the bank security guard next door. Routines and familiarity breed a safe learning environment for students, who also gain invaluable life experience through daily interactions with the community.
Ample opportunities exist for students to share resources with residents. Gymnasiums can host school or city sports leagues, classrooms can be used for adult education and school corridors are perfect for early-morning walkers.
Families also benefit. Parents who work nearby in office, commercial or retail spaces have immediate access to their children. Students take comfort in knowing their parents are nearby, and for working families, urban centers often have mass transit — generally a safe and reliable way for students to get to and from school.
The role of good teachers in student success cannot be underestimated. Education in mixed-use environments can reduce teacher attrition, which is often overlooked in school planning. The annual cost of replacing teachers who leave the profession or transfer to another school is in the billions of dollars.
Research has shown comprehensive induction — which provides teachers mentoring, professional development and regular interaction with members of the education community — to be very effective in supporting those who dedicate their days cheering on others but receive little encouragement themselves.
Mixed-use developments embed schools in environments conducive to comprehensive induction. When Eden relocates to Princeton Forrestal Village, teachers will have the company of the Harmony School as well as access to restaurants, fitness centers and retail shops.
The RBH Group is currently developing the concept of teacher communities, which will group several charter schools and residential spaces targeted to teachers with retail, restaurant and entertainment offerings. The opportunities for after-school relationships, collaborations and the exchange of ideas among teachers from various school typologies will be immense and invaluable, particularly for newer teachers who often begin their careers in urban areas.
Municipal Benefits
Cities also benefit when schools move into neighborhoods. The daily traffic of students, parents, teachers and staff becomes an integral component of the urban fabric and helps the city reach critical mass. The influx of pedestrians brings new investment and businesses to the area, which further generates pedestrian activity.
Urban centers provide students access to a wealth of cultural resources, performance spaces, community centers and parks. Learning literally goes beyond classroom walls.
When TEAM Charter Schools opened a new high school last August in downtown Newark, N.J., students found themselves directly across the street from City Hall and near several city parks, the New Jersey Performing Arts Center and Rutgers University's Newark campus.
Grouping educational institutions together provides opportunities for sharing cultural, athletic and performance resources. New Jersey City University in Jersey City, N.J., benefits from its proximity to University Academy Charter High School, which provides classrooms with ample space at night for its nontraditional students.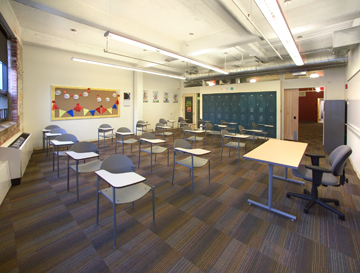 In turn, the high school uses the university's laboratory classrooms — spaces that can be cost prohibitive for secondary schools. Both institutions share performance space with community groups in the adjacent West Side Theatre.
By having a constant and positive influence in the area, higher education institutions can also expand their catch area for future students. With its proximity to the charter high school, NJCU has enviable opportunities to recruit academically motivated students.
Finally, education in mixed-use developments makes sense to developers, who are imperative to bringing these schools to fruition. In high-density areas with multi-story buildings, many retailers will only consider street-level space and only a limited amount of office space makes sense. Developers need building users who will also be reliable tenants. Educators and students fit the bill perfectly.
Despite the benefits of locating educational facilities in mixed-use developments, there are sometimes concerns over foot and automobile traffic. The development must be a good fit for the school, but the school must also be a good fit for the development.
"In the urban cores where we invest, the activities at the schools blend right into the normal hustle and bustle we are accustomed to in our daily city lives," Beit says. "New facilities and educational choices are generally welcome."
Hannah Richman, director of Friends of TEAM Charter Schools, says the new location in downtown Newark has generated positive reviews from students and their parents.
"They're very excited and enthusiastic to be in a new, nice space that has a great dynamic," Richman says.
Good planners and developers are strategic and sensitive in choosing sites. They may review hundreds of sites before finding a few that meet their criteria. The site must accommodate the specific physical requirements of a school, including classroom space, special program elements, daylighting, column spacing, floor-to-floor height and accessibility. Ample space must also be available for buses, student drop off, food-service deliveries and teacher parking.
Other considerations include environmental conditions, real estate costs and timing, each of which requires in-depth analyses. But, at the end of the day planning for educational facilities in mixed-use developments can be a successful and sustainable model.
Success comes in many forms. Almost immediately after NJCU University Academy Charter High School welcomed its first students, new life flowed into the West Side neighborhoods of Jersey City. Small shops and restaurants opened on adjacent streets, drawing daily traffic from residents and students who are now worry less about their safety and more about their studies.
By thoughtfully and strategically integrating education in mixed-use developments and urban centers, planners and developers give students enriching learning environments in which they can thrive inside and outside the classroom. Students, teachers and communities flourish when worlds separated in the past come together.
Merilee Meacock, AIA, LEED-AP, is a principal who specializes in pre-K-12 design and planning at KSS Architects, located in Princeton, N.J., and Philadelphia. Contact her at (609) 921-1131.