Chicago STEM School Tackles Sustainability Inside and Out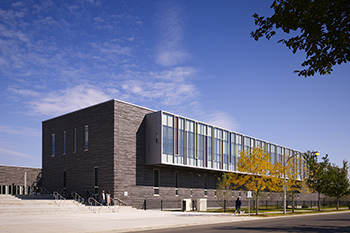 CHICAGO — Sarah E. Goode STEM Academy, designed by STR Partners and built by F.H. Paschen/S.N. Nielsen & Associates, both of Chicago, recently received LEED Platinum certification. This distinction makes it the first building in the Chicago Public Schools system, as well as the first new school in the city, to achieve the status.
In designing this innovative 207,000-square-foot school, STR designers, who collaborated with a team from NIA Architects of Chicago, took care to make the building itself a lesson in sustainability. According to a statement by the firm, the building and site were intentionally designed to educate users about sustainable design, by showcasing energy-saving and environmental features. As the school is named for pioneering freed slave Sarah E. Goode, who was herself an inventor, furniture designer, business owner and the first African American women to hold a U.S. patent, innovation and forward thinking were key.
Visitors to the modern and colorful Ashburn neighborhood school are greeted by low-maintenance vegetation, meandering walking paths and a permeable, low-albedo parking lot. Tucked among the ball fields and sidewalks are several picnic areas and benches where both students and community members are encouraged to sit and enjoy the space. A centrally located council circle also serves as an outdoor learning space, as do the school's learning, reading and rain gardens.
Blending the interior and exterior is a surprisingly lush garden on the school's green roof. Here, trees that were removed during construction have found a new home thanks to a creative design by American Hydrotech. These reintroduced trees don't just provide shade, but have even helped establish a lively bird habitat.
The three-story, steel fame and masonry school also utilizes multiple natural energy sources, which contributed greatly to its LEED Platinum points. A geo-exchange heat pump system provides for the majority of the building's heating and cooling needs, while a solar thermal hot water heating system keeps the school's six-lane swimming pool comfortable for students. The low-flow fixtures throughout the $62 million facility also contribute to its sustainability efforts, and non-potable water is diverted from the roof and funneled into the onsite community gardens.
A number of sustainable features were also built directly into the structure itself. From large windows, provided by Wausau Window and Wall Systems, to facilitate interior daylighting, to a demand control ventilation system, the Sarah E. Goode STEM Academy has all their environmental bases covered. By also using regional materials, as well as those with high levels of recyclable content, the school took a very holistic approach to sustainability.
Inside, the 1,200-student high school features several STEM labs, science labs, visual arts classrooms and a state of the art library and media resource center. These facilities support the school's science, technology, engineering and mathematics-based curriculum, which also allows students to earn college credit. Both indoor and outdoor athletic areas are available to students, as well as a raised stage for performances with impressive lighting, rigging and acoustic systems. A college resource center, green room and distance learning labs round out this school's comprehensive and forward-thinking approach to education.
Awards
2013 Brick in Architecture – Gold for Education
2013 Learning by Design Publisher's Commendation Award
2013 Friends of the Chicago River Green Ribbon
2013 Chicago Association of Realtors Good Neighbor Award
2013 American Society of Heating, Refrigerating and Air-Conditioning Engineers Award of Engineering Excellence