Q&A: TCU's New Residence Hall Enhances Student Community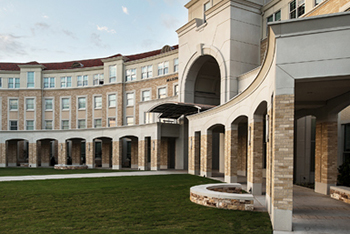 FORT WORTH, Texas — Texas Christian University (TCU) debuted a new residence hall, designed by Tulsa, Okla.-based KSQ Architects, in December. The two-building residence hall, known as Marion and Clark Halls, offers 400 suite-style student beds designed for sophomores. Common areas, study lounges and baking kitchens are included to build community within the LEED Gold-certified space.
A dramatic barrel-vault archway serves as a figurative and literal connector to the surrounding TCU campus. Marion and Clark Halls is the first of three phases planned for the Worth Hills Village development, which will eventually include a third residence hall, a parking structure, a dining or multipurpose building and Greek Village. In total, the development will house 1,800 students.
School Construction News spoke with David Short, principal at KSQ Architects, about the development and what it means to design housing facilities for 21st century students.
Q: What was the main goal of the project?
Short: In the original housing master plan, [the university] had planned to replace all the housing in Worth Hills Village in the next 10 years, but it had been more like 12 to 14 years. It outlived a lot of its uses. Worth Hills was perceived to be a long walk from campus and wasn't very connected to the campus. Over that 15-year period from when the original master plan was done to when this started, the university purchased all that market property and took it all down except for one building. We really designed this facility to have a stronger connection to the residential portion of the campus and the main campus as a whole.
Q: What is the key difference between designing housing facilities for today's students versus the ones 10 years ago?
Short: I think the main difference is the expectations of the students, who expect a lot more —particularly freshman coming in. Most students at TCU come from a place where they had their own bedroom and maybe even their own bathroom, so all the students that come that's what they ought to have. The goal of the university is not to isolate these students but to create an environment to support their growth academically and socially as well. These spaces are designed to build strong communities. This complex will house mostly sophomores, so it has a little more privacy but is still designed to be community building. The rooms are designed so they can't really hibernate in them and they don't want to.
The new dining halls, for instance, are being designed for student use during all hours of the day and night, with lots of variety and high-end choices for the students. They really want lots of choices. The new dining halls are not only used dining, but they're student spaces for study, hanging out, interaction, gaming and reading, and dining's just part of that experience for the student.
Q: What were some of the challenges that occurred on the project?
Short: The biggest challenge on almost every project is giving the client everything they want for the budget they have. I think we did some good value engineering on the project to design a building that really serves as a gateway for the Worth Hills campus. I think some of the cool things we did were create some two-story spaces and some nice volumes in the building that really make the space feel open. We did that economically by having little slits of two-story space so you feel more of that connection to the floor above you (as opposed to big atriums).
Q: What did you learn from the project?
Short: One of the things we learned is that you can never build enough community space in a resident hall where students can gather and hang out and exchange ideas and talk and play the guitar. I think that's one of the biggest differences in these new residence halls versus the traditional ones. They have so many places that the students can get together. Even on the difficult floors, it's about understanding that students use those hallways as community space. I think that every building we do we learn that we can never quite exhaust how we design the building to meet those needs; always looking for new ideas and new opportunities in those buildings.
In Texas, we have the luxury of wide open spaces and being able to spread out horizontally a little bit. This housing facility is four stories, so what's nice about that versus nine stories is that students are more apt to take the stairs. What we hear from TCU students that have looked at other schools is that it feels different. They can accidentally run into people and have unplanned interactions because they are taking the stairs. That is part of what makes these TCU building's special and contributes to that sense of community.